SAT Tip: Getting the Most Out of Your Study Plan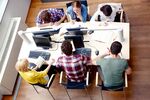 This tip on improving your SAT score was provided by Vivian Kerr at Veritas Prep.
Studying for the SAT can be a bit stressful. It's not as if you have anything else to do, right? Oh, wait … school homework, college applications, AP Tests … yikes! Here's how to get the most out of your SAT study plan without turning into a total stress case.
Keep it positive. The SAT is a marathon—and no one can prepare to run a marathon in a day. Focus on your progress as you go, and look back at where you were just a few weeks earlier in your SAT test prep. Keep moving forward, but don't forget to give yourself the occasional pat on the back.
Become a creature of habit. It's important to set a routine study schedule, preferably at the same time each day. Go to bed at the same time and wake up at the same time every day. Schedule consistent study blocks—for example, 30 minutes of studying before school and 30 minutes of studying as soon as you get home. That way, even if you don't have time for anything else, you'll be getting at least an hour of work done each day on the SAT. The biggest reason students stress out over the SAT is that they try to cram by leaving it all to the last minute. Just like a marathon, it takes two to three months of consistent work to master.
Keep the electronic devices to a minimum. Any kind of artificial light or sound can interfere with sleep and study time and make your stress level skyrocket. Move your phone, computer, and any other gadgets across the room as you work through your SAT book, and don't use them on your bed if you can help it. Studies have shown that people who use laptops in bed have a harder time "switching off."
Study socially. Worried you're spending all your time in your room drowning in Reading Comprehension? Make studying social by creating an SAT study group with friends. Meet once a week after school or at a coffee shop to compare strengths and weaknesses, do drills together, and practice doing "teach-backs," where you each choose a challenging concept to explain to the group. This will help relieve stress by making the SAT more fun.
Get your "mantra" on! A mantra is an empowering message that you repeat to focus your energy on positive thoughts. Come up with three that make you feel awesome. Type them up in a fun font, and tape them above your desk, inside your locker, on the cover of your SAT book, or anywhere else where you'll see them throughout your day. Some fun examples: "I am gonna own the SAT!" or "Every day I keep rockin' the SAT!"
Remember the biggest way to alleviate stress on the SAT is to know this secret: You'll get out what you put in. Keep on moving, even when it gets frustrating, and you can't help but succeed.
Vivian Kerr has been teaching and tutoring in the Los Angeles area since 2005. She graduated from the University of Southern California, studied abroad in London, and has worked for several test-prep giants tutoring, writing content, and blogging about all things SAT, ACT, GRE, and GMAT.
For more SAT advice from Veritas Prep watch "SAT Preparation Tip: How To Create An Effective Study Plan"
Before it's here, it's on the Bloomberg Terminal.
LEARN MORE