North Korea's Defiant Nuclear Stance Poses U.S. Quandary
Indira A.R. Lakshmanan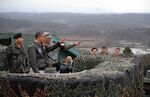 North Korea's nuclear test in defiance of global sanctions drew condemnation and vows of tough action by the United Nations Security Council as President Barack Obama warned of consequences for the regime.
The young North Korean dictator Kim Jong Un is asserting his hold on dynastic power, strengthening his deterrent against regime change, and proving to his domestic audience that he will follow the "military first" policy of his father and grandfather, according to current and former U.S. officials who work on North Korea policy.
With the test less than 24 hours before Obama's State of the Union address, Kim forced his way up the national security to-do list for the U.S. president's second term. In his speech last night, Obama said North Korea's "provocations" will only further isolate the nation.
"This is a runaway program now," Victor Cha, former chief U.S. negotiator for nuclear talks with North Korea under President George W. Bush, said in an interview. He said that North Korea had previously defied the UN Security Council by conducting two nuclear and three missile tests in recent years.
With yesterday's blast, North Korea proved again it could detonate fissile material, flouting the international community and its only ally, China. Even so, nuclear specialists said that the U.S. and its allies shouldn't overreact since Kim's regime remains far from having the capacity to threaten the U.S. or its allies with a deliverable nuclear weapon.
Seeking Attention
"This is not a crisis," said Toby Dalton, a former nonproliferation specialist at the U.S. Energy Department, now deputy director of the nuclear policy program at the Carnegie Endowment for International Peace, a Washington policy group.
North Korea "elected to demonstrate a capability that they demonstrated twice before" because of political motives, which are "to get attention from the new governments in Seoul, Beijing, Tokyo and a second-term Obama," Dalton said.
Any judgments about Kim are largely speculative, since he is a secretive ruler of the world's most closed and repressive nation. The difficulty in understanding what's going in North Korea, a militarized state that has trouble feeding its people even as Kim and his elite live pampered lives, complicates policy making.
Yesterday's underground nuclear test appeared to have embarrassed and angered China, which had warned Kim against it, making it more likely that China's new leaders will be willing to support further UN sanctions. Chinese Foreign Minister Yang Jiechi made a "solemn representation" to the North Korean ambassador, according to a statement on the ministry's website.
UN Sanctions
The blast took place weeks after UN Security Council members, including China, imposed additional sanctions after Kim's December launch of a long-range rocket in violation of a Security Council ban.
The nuclear test produced no strategic change "beyond possibly the irritation of Beijing and the strengthening of right-wingers in Japan and the United States," according to Robert Farley, a national security specialist at the Patterson School of Diplomacy at the University of Kentucky in Lexington. "North Korea is at a dire nuclear and conventional disadvantage relative to the United States and its allies" and will remain so "effectively forever."
The appropriate policy response, Farley wrote in an online analysis, remains "containment until the regime collapses."
Dalton said it's too soon to tell if tensions provoked by the test will spur the revival of denuclearization talks involving China, Japan, North Korea, Russia, South Korea, and the U.S. that stalled more than four years ago, before Obama took office.
Repetitive Cycle
"There's been a cycle of provocation, negotiations, some progress -- and then things break down and then you're back to a new provocation and the cycle repeats," Dalton said.
While North Korean is considered a long way from combining a miniaturized nuclear warhead with a long-range ballistic missile, Cha said that doesn't mean the U.S. and other nations can be complacent.
"Do you want to wait till they can put it on a launch pad with a missile that says USA on it?" Cha asked.
Still, Kim's regime gained little leverage for future talks, according to North Korea watchers inside and outside the Obama administration. The immediate response from the U.S. and allies is to push for harsher international and even unilateral sanctions on banks and entities doing business with North Korea. The risk is that Kim may treat new sanctions as provocations that demand a response.
Negotiating Table
Eventually, said Stephen Bosworth, the Obama's former special representative for North Korea policy, the U.S. will have to get back to the negotiating table with North Korea.
In addition to having a military objective, North Korea's nuclear program carries political goals, said Bosworth, now dean of the Fletcher School of Law and Diplomacy at Tufts University in Medford, Massachusetts.
"They want to get people's attention, they want to be taken seriously as a nuclear weapons state, and we of course have always refused to do that," Bosworth said in an interview.
That said, he added, the U.S. needs to offer a broader agenda with North Korea that doesn't depend on denuclearization.
"More sanctions and more public declarations may make us feel better, but I don't think they have any real effect on North Korea," he said.
The most likely course of action now, though, involves tougher sanctions and a UN Security Council resolution that may include the threat of military force to send a message, according to several U.S. officials who asked that their names not be used in discussing internal deliberations.
"Sooner or later" the Obama administration will "have to hold their nose and reengage" with the North, said Cha, who now holds the Korea chair at the Center for Strategic and International Studies in Washington. A return to negotiations, "as distasteful as it may be," he said, is the only action that has a chance of freezing or rolling back the program.
Before it's here, it's on the Bloomberg Terminal.
LEARN MORE