BBC Sued in First Case Over Ex-TV Star Savile's Sex Abuse
Erik Larson and Jeremy Hodges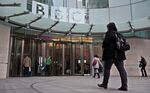 The British Broadcasting Corp. was sued by a victim of the late television star Jimmy Savile, who police say sexually abused hundreds of young girls and women for decades, including on the BBC's property.
The lawsuit, the first since the scandal started, was filed Feb. 5 in London, according to court records. The victim, who wasn't identified in the filing, also sued Royal Bank of Scotland Group Plc's NatWest unit, which is the executor of Savile's estate.
"We have 31 cases ready to go and potentially many more to come," Alan Collins, the lawyer for the victims, said today in a phone interview. The BBC is accused of "vicarious liability" in the case, he said.
The BBC was plunged into crisis after competitor ITV Plc aired a story in October alleging Savile abused young girls decades ago. George Entwistle, the then-director general of the BBC, stepped down the next month after revelations the publicly-funded broadcaster had dropped an earlier probe into Savile's abuse by its news division and instead aired tributes following his death in October 2011, at the age of 84.
The BBC declined to comment on the lawsuit. RBS, based in Edinburgh, froze Savile's estate last year in anticipation of possible legal claims. The bank's press office said it wasn't aware of the lawsuit and declined to comment further.
Strong Case
While claims of vicarious liability against an employer aren't common, the victims have a strong case and the BBC will probably seek to "lance the boil" and settle before a trial, said David Foster, a lawyer with Barlow Robbins LLP in Guildford, England, who isn't involved in the cases.
"There will be an issue over how much the BBC should objectively have known, and whether or not they are culpable for not seeing the risk and done something about it," Foster said. "They'll have to have some evidence."
Liz Dux, a lawyer for a group of 62 other victims, said the lawsuit filed last week is premature because most of the parties in the dispute agreed to delay litigation until the police investigation was complete.
"Those investigations are crucial to the outcome of the civil litigation," Dux said in a phone interview today. "We do not believe the commencement of litigation at this stage to be either necessary or in our clients' best interest."
Prior Investigation
Savile wasn't prosecuted while he was alive, even after four women made reports to two U.K. police departments in 2007 and 2008, in which they described abuse when they were children. Police and prosecutors could have filed criminal charges against Savile if the cases had been handled properly, the Crown Prosecution Service said in a report last month.
U.K. police said in a separate report that the late TV star committed more than 200 criminal offenses at the BBC, in schools and in more than a dozen hospitals, mental homes and a hospice. Other offenses are still being investigated.
Savile engaged in the illicit conduct until at least two years before his death, when he put his hand up the skirt of a 43-year-old woman on a train, police said. His youngest victim was an 8-year-old boy, while most were girls between 13 and 16.
In addition to starring on "Top of the Pops," Savile, who started working at the broadcaster in 1965, also hosted the BBC's "Jim'll Fix It," where he granted wishes for children. His celebrity status and activity for charities allowed him access to children in hospitals and schools, police said.
One of his final known acts of abuse was against a child during the filming of the last episode of "Top of the Pops" in 2006, according to the Met's report.
Famous Friends
Savile, a friend of Prince Charles who stayed at Margaret Thatcher's country home when she was prime minister, retained his popularity in Britain after the shows ended, using his fame to promote charity work that gave him access to children.
The police report listed several other examples of Savile's illegal behavior, including a 1960 incident in which he "seriously sexually assaulted" a 10-year-old boy in a hotel after he asked the star for his autograph. In 1972, a 12-year-old boy and two of his female friends were groped by Savile during a break in the filming of "Top of the Pops."
The case is: P1 v. British Broadcasting Corporation & Anr., U.K. High Court of Justice, Queen's Bench Division, case no. HQ13X00482
Before it's here, it's on the Bloomberg Terminal.
LEARN MORE