pursuits
The Carnival Triumph: Fun Ship, Minus the Fun
By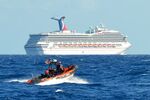 Seeing the news photographs of the powerless Carnival Triumph being carried northward by the current this weekend came as a bit of a shock. You see, the Triumph was the second cruise ship I had vacationed on, and the memories of my 2007 sail on her through the Eastern Caribbean are particularly fond—definitely better than those of the 3,143 passengers and 1,086 crew. They're finding out what life is like when a floating theme park becomes just another stricken hulk.
The Carnival Triumph, which became disabled in the Gulf of Mexico after an engine room fire on Sunday, is being towed to Mobile, Ala. There is little power or air conditioning, plastic bags are subbing for bathrooms, and passengers have had to endure without the benefit of bar service or such Carnival Cruise Lines staples as ice carving demonstrations and the poolside Hairy Chest Contest.
Instead of enjoying my personal favorites in the London Dining Room, like lobster and Carnival's signature chocolate melting cake, current passengers are making do with mostly cold food at the poolside restaurant—lines for which included more than an hour's wait time during the first few days of the accident. And while I always looked forward to my nightly strolls across the open-air Lido Deck, passengers on the stricken Triumph have instead sought out the open space to pitch makeshift tents, which they constructed to avoid the stale, hot air in their un-air-conditioned staterooms below.
This isn't the first time a Carnival ship has found itself adrift while passengers stewed. In 2010, the Carnival Splendor and its nearly 4,500 passengers and crew were adrift for days off the Pacific Coast of Mexico due to a fire before being towed back to San Diego. Without power for air conditioning and refrigeration, passengers were fed rations delivered by the U.S. Navy. And don't forget the fate of another Carnival-owned line: Costa Cruises' Costa Concordia, which capsized in January 2012 after running aground off the coast of Tuscany. The industry, which grew rapidly by promising dream vacations, every now and then has to cope with a nightmare.
Many of those with cruising in their blood are willing to deal with that risk. Marian Eure, president of Embroidery Creations, a San Antonio-based company that develops embroidered promotional items for businesses, schools, and organizations, is still looking forward to her Fun Ship time on the stricken vessel. "We are booked on the March 30 sailing of the Triumph—will have to see what happens," Eure posted this morning on CruiseCritic.com. "Interestingly was also booked on the Splendor 2 years ago after its accident and had that cruise cancelled. I'm beginning to think we are bad luck ;-)." I understand: After six cruises, all on Carnival, I'm still game for trolling the Caribbean by ship.
We'll see how many of those Carnival Triumph passengers feel the same way. They're getting a refund and a credit toward future cruises—if they want to use it.
Before it's here, it's on the Bloomberg Terminal.
LEARN MORE