Storm May Bring Snow to NYC Today as Weekend Threat Fades
Brian K. Sullivan and Lynn Doan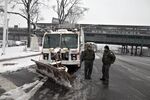 A fast-moving storm may drop as much as 3 inches (8 centimeters) of snow on New York City and parts of New England late today.
The system is weak and will pass quickly through the area from New Jersey to Cape Cod, Massachusetts, said Joey Picca, a National Weather Service meteorologist in Upton, New York.
"Precipitation will be developing late today and we'll never be getting anything too heavy," Picca said by telephone. "The generally good thing with this system is that it's really quick-hitting, so by the time folks are getting up in the morning, things should be winding down for the most part."
The weather service issued a winter weather advisory for parts of Nassau and Suffolk counties on New York's Long Island that goes into effect at 5 p.m. because driving may be difficult. There is a slight chance the eastern end of the island may receive 4 to 8 inches of snow.
The advisory ends at 6 a.m. tomorrow.
A second system, which forecasters had thought might bring another round of heavy snow to the Northeast this weekend, will almost certainly pass harmlessly out to sea, said Rob Carolan, owner of Hometown Forecast Services in Nashua, New Hampshire.
Cold Blast
That storm will be pushed away from the region by a blast of cold air that will send temperatures to 17 degrees Fahrenheit (minus 8 Celsius) in Boston and 24 in New York City on Feb. 16, according to the weather service.
"That punch of cold air will deflect it off to the south," Carolan said. "We're going to turn too cold too quickly and the storm is going to get diverted."
The Northeast is still recovering from a blizzard that lashed the region starting Feb. 8. The storm dropped 24.9 inches on Boston, the fifth-most on record, and 40 inches on Hamden, Connecticut, according to the National Weather Service. At least seven people died, about 613,000 customers from Maine to New York were without power and travel was crippled.
Before it's here, it's on the Bloomberg Terminal.
LEARN MORE