Benedict Won't Interfere With New Pope, Will Pray for Him
Andrew Davis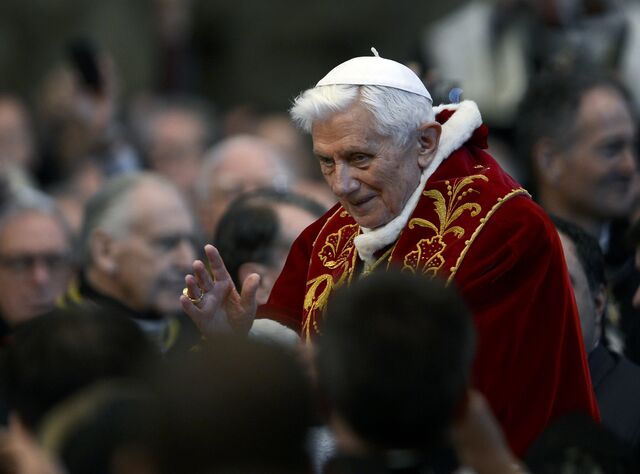 Pope Benedict XVI won't interfere with the work of his successor when he becomes the first pontiff to resign in almost 600 years and will support the new leader of the Roman Catholic Church with his prayers, a Vatican spokesman said.
"The pope has said that he will use his time for prayer and reflection and he will not have any responsibility in guidance of the church," Vatican spokesman Father Federico Lombardi said today at a press conference in Rome. "This is absolutely clear."
Pope Benedict, 85, said yesterday he no longer has the strength to lead the world's 1.2 billion Catholics, and will resign from the papacy at the end of the month after almost eight years. Vatican leaders are struggling to prepare for having a living former pope for the first time since Gregory XII stepped down in 1415 to heal a schism within the church.
"It's a new situation," Lombardi said, adding that Church leaders are trying to figure out how to proceed once Benedict abdicates on Feb. 28. Pope Benedict won't play any role in choosing his successor during a conclave of cardinals to be held next month, Lombardi reiterated. The conclave will probably be held between 15 and 20 days after the pope's resignation, he said.
"I think that the Pope is a very discreet person," Lombardi said. "Benedict will surely say absolutely nothing about the process of the election. He will be retired and he will not intervene in any way in the process."
Papal Ring
Lombardi said the Vatican has not determined how the pope will be addressed after he resigns and officials are trying to figure out what to do with the trappings of his papacy. The papal ring, which can be used as a seal on official Vatican documents, will probably be destroyed, following the practice employed after the death of a pope, Lombardi said.
Benedict recently had ``routine'' surgery to replace a pacemaker though there was no specific illness behind his decision to retire, Lombardi said.
Benedict will make his last public appearance as pope when he holds his final Wednesday audience at the Vatican on Feb. 27, Lombardi said. He then will then spend some time at his summer residence at Castel Gandolfo near Rome before retiring to a former convent within Vatican City.
Before it's here, it's on the Bloomberg Terminal.
LEARN MORE