A Notre Dame MBA Brews Up a Business
By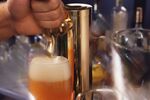 Drew Elegante entered Notre Dame's MBA program to study nonprofit management in 2010. After interning with non-governmental organizations in South Africa and Haiti, he thought the degree could lead to a consulting job at a firm such as Deloitte or KPMG, where he would advise businesses on sustainable practices.
He wound up, however, in a much different position: preparing to open a brewery selling craft beers in a refurbished movie theater not far from campus.
In a strange way, Elegante is satisfying the altruistic impulse that initially guided his business school studies. In his second year at school, he entered a competition to come up with a new use for an historic movie theater in downtown South Bend, Ind., that had fallen from 1950s grandeur to 2010-era blight.
The goal of the competition was to remake "the theater into a focal point" of the downtown area, says Elegante, who took several social-enterprise and entrepreneurship courses while at Notre Dame. The contest "was basically taking everything I learned in class and applying it to this building."
He says the theater was known in better days for its luxurious, thickly cushioned seats, modern projection equipment, and distinguished art deco marquee. It closed in 1978, came back as a night club from 1997 to 2005, and by 2011 had fallen into foreclosure. A nonprofit organization aimed at revitalizing South Bend's downtown hosted the contest to attract investors who might restore the theater to glory.
Elegante says he showed the judges that his idea for a South Bend Brew Werks would be profitable if he could carry it out in phases: He would first turn part of the space into a brewing supplies store and later open a brewery in the building's lower level, showing Notre Dame football games on the projection screen. Finally, he would introduce musical acts and other performances to the theater's stage. His proposal took third place.
Despite that finish, the idea impressed the building's owner, who hired Elegante to oversee the theater's renovation. Over time, the fact that Elegante was willing to execute his plan, find investors, and invest his own money gave him an edge over other contest winners. He opened the brewing supplies store in November and expects the brewery—which he would co-own with the theater owner and three other investors—to open by May.
The project has received wide support from Notre Dame's Mendoza College of Business. A handful of students studying social entrepreneurship are working on the theater as part of a class project. Elegante also consulted with his former professors to map out his plan's financial structure and investment timeline.
The effort entails sacrifice on Elegante's part. While most of his classmates left to take corporate jobs that paid $98,600 on average, according to Bloomberg Businessweek data, Elegante accepted a "far lower" salary and has invested about $20,000 of his own money in the brewery concept. (Prior to business school, Elegante worked in software development for CVS Caremark.)
Melissa Paulsen, a professor who teaches entrepreneurship at Mendoza and is overseeing the students' involvement at the theater, says Elegante is representative of a growing number of MBA candidates she meets who are looking for jobs aligned with social goals.
"An older generation would accomplish this through charitable donations or board service, but this generation is looking at 'How do I integrate it with my work?'," she says. "That is how they think they are going to be happy."
Join the discussion on the Bloomberg Businessweek Business School Forum, visit us on Facebook, and follow @BWbschools on Twitter.
Before it's here, it's on the Bloomberg Terminal.
LEARN MORE