pursuits
Westminster Dog Show Viewer's Guide: The Smart Money's on Fifi the Doberman
By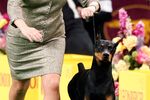 Predicting a winner of the Westminster Dog Show may seem, at first, like a fool's errand. Where, even, to begin? Starting today, more than 2,700 temperamentally mellow, expertly coiffed canines representing 187 different breeds will walk the green carpet in the 137th annual event at New York's Madison Square Garden to contend for the coveted prize of Best in Show.
"To pick a winner is hard to do," says Johnny Avello, who oversees all sports bookmaking for the Wynn Las Vegas Hotel and Casino. Nonetheless, he has successfully predicted the winner three times over the last six years—including last year's champion, a three-year-old Pekingese—and is the closest thing to an oddsmaker-of-record for the event.
To review, dog shows are like a cross between figure skating and a beauty pageant. The 187 breeds are divided into seven groups: Herding, Sporting, Toy, Hound, Terrier, Non-Sporting, and Working. The judges study the dogs' appearance, disposition, and agility, and consider X-factors like crowd response. The group winners advance to compete against each other for Best in Show, an honor that confers no money, just fame and an extra helping of kibble.
The judging is rigorous and rigid. For, say, the affenpinscher, the official "standard"—the judge's bible—emphasizes a "preferred height at the withers [of] 9½ inches to 11½ inches" and a gait that is "light [and] free." It goes on:
The dog "carries itself with comic seriousness. Viewed from the front or rear while walking, the legs move parallel to each other. Trotting, the feet will converge toward a midline as speed increases. Unsound gait is to be heavily penalized."
Avello, who was recently revered as a psychic "guru" by Las Vegas Weekly, employs no such rigor when trying to predict a champion. Rather, he relies on a "gut feeling" mixed with research of the yearlong dog-show circuit, then zeroes in on the breeds continually running away with blue ribbons at the highest levels. "To me there are maybe 10 or 12 dogs with a shot to win this," he says.
Avello only sets odds on a winning breed—not any particular dog—so the goal is to choose one in 187, not one in 2,700, and it's all about consistency, he says. Certain breeds are eternally strong bets, he says: "Poodles are always there, though I don't really like the poodle to win it this year. The Scottish terrier's always in the mix. The English springer spaniel always seems to do well. These are all consistently good—every year you'll find an English springer spaniel that's good."
This year, Avello's frontrunner is a Doberman pinscher, at 7-to-1 odds. Specifically, the Doberman pinscher he thinks will win is a four-year-old named Fifi, also known as the "Fifinator." "She's had a good year and been very consistent," he says. "She's won some shows, gathered a lot of points. She was always right up there if she didn't win it."
Behind the Doberman, he's listed a pointer (8 to 1), a fox terrier (10 to 1), and an affenpinscher (11 to 1). Watch for that comic seriousness, and beware the unsound gait.
Before it's here, it's on the Bloomberg Terminal.
LEARN MORE