Trump Submits Preliminary Plans for Second Scottish Golf Course
Peter Woodifield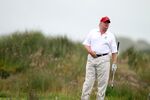 Donald Trump, the New York real estate billionaire, submitted preliminary plans for a second course at his 750 million-pound ($1.17 billion) Scottish golf resort seven months after the first one opened.
Trump's proposals for the course, which will be named after his Scottish-born mother Mary MacLeod, were presented to Aberdeenshire Council, the developer said today in an e-mailed statement. The 18-hole course, which will vary between 5,630 yards (5,150 meters) to 7,540 yards in length, will be on the southern end of Trump's 1,400-acre (567 hectares) Menie Estate 10 miles (16 kilometers) north of Aberdeen on Scotland's northeast coast.
Trump, whose mother was born on the island of Lewis, spent more than 100 million pounds building the course, restoring the estate and carrying out infrastructure work. He has built a 22-acre driving range, a 3,000 square-meter putting green and a 10,000 square-meter short-game practice area.
More than 10,000 golfers played the championship course from July through October, Trump said in the statement. He will try to host the British Open golf championship or the Ryder Cup tournament between Europe and the U.S. The site will open in April, and bookings for this year have risen 55 percent from a year ago, he said.
"The unprecedented demand to play our championship course has accelerated our plans to build the second course," Trump said in the statement.
A dispute with Scottish First Minister Alex Salmond over plans to build an offshore wind farm overlooking the resort had led Trump to delay plans to build the second golf course, a 450-bed five-star hotel, 500 homes and 950 short-term rental apartments.
Before it's here, it's on the Bloomberg Terminal.
LEARN MORE