Larijani Ends Speech as Ahmadinejad Supporters Attack, ILNA Says
Ladane Nasseri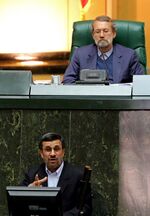 Iran's Speaker of Parliament Ali Larijani cut short an address at a gathering to mark the revolution's 34th anniversary after he was attacked by backers of President Mahmoud Ahmadinejad, his political rival, Iran Labour News Agency reported.
Larijani, the main speaker today at a commemorative event in Qom, was unable to finish his speech after about 100 followers of the Iranian president interrupted him by shouting slogans and then by throwing objects including clay tablets, usually used for prayers, and shoes, ILNA said.
Larijani was led away after protesters attempted to reach the area he was speaking from, the news service reported.
Ahmadinejad has been embroiled in a growing dispute with Larijani, his long term political opponent. Larijani is seen as potential candidate in the June presidential election in which Ahmadinejad is constitutionally unable to run.
Before it's here, it's on the Bloomberg Terminal.
LEARN MORE