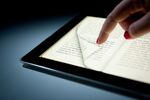 The U.S. Department of Justice announced on Friday that it had reached a settlement with Macmillan in a lawsuit over the alleged price fixing of electronic books. Macmillan is the last of the big publishing houses to settle with the government.
This past spring, Macmillan Chief Executive Officer John Sargent had vowed to fight the case. Today in a note to authors, illustrators, and agents published on the company's website, Sargent explained why he had reversed course.
"There are two reasons we did not settle earlier," he wrote. "First, the settlement called for a level of e-book discounting we believed would be harmful to the industry. We felt that if only three of the big six publishers were required to discount and we stood firm, those problems might be avoided. But when Random House agreed to be bound by the Penguin settlement, it became clear that all five of the other big six publishers would be allowing the whole agent's commission to be used as discount, and Macmillan's stand-alone selling at full agency price would have no impact on the overall marketplace. And in addition, your books and our business would have a pricing disadvantage for two years."
"The second reason was simpler," he added. "I had an old fashioned belief that you should not settle if you have done no wrong. As it turns out, that is indeed old fashioned."
The government touted the settlement as a further victory for e-book consumers. "According to the complaint, the five publishers and Apple were unhappy that competition among e-book sellers had reduced e-book prices and the retail profit margins of the book sellers to levels they thought were too low," the feds noted in a press release. "To address these concerns, the department said the companies worked together to raise retail e-book prices and eliminate price competition, substantially increasing prices paid by consumers. Before the companies began their conspiracy, retailers regularly sold e-book versions of new releases and bestsellers for, as described by one of the publisher's CEO, the 'wretched $9.99 price point.' As a result of the conspiracy, consumers were typically forced to pay $12.99, $14.99 or more for the most sought after e-books, the department said."
Macmillan will stop restricting discounts and won't be able to establish any such new restrictions until December 2014, the government said in its release.
Macmillan's reversal leaves Apple as the final defendant named in the case that is still fighting the charges. Previously, Apple has denied the government's allegations that it conspired with publishers to fix prices of e-books in an attempt to undermine Amazon.com's dominant position in the market.
Before it's here, it's on the Bloomberg Terminal.
LEARN MORE