Killing Nemo: Weather Channel's Storm Name Irks Some
By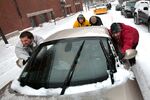 Ready for Winter Storm Nemo? New Jersey Governor Chris Christie is, not to mention New York Governor Andrew Cuomo and New York City Mayor Michael Bloomberg (the founder and majority owner of Bloomberg LP, publisher of Bloomberg Businessweek). But at least one area of government isn't taking the bait: the National Weather Service.
The nation's weather agency has actively fought Nemo, Athena, Brutus, and other catchy Greek names the Weather Channel has used to brand winter storms this season. It just wishes others would do the same. "We don't name winter storms," says agency spokeswoman Susan Buchanan. The official reason is that a storm's impact can vary from one location to another, making it difficult to define where one ends and another begins.
But the fact that a commercial network is behind the new monikers clearly irks folks at the nation's weather authority, too. "There are a lot of private weather providers in the country," Buchanan says. "The Weather Channel is just one of them."
True, but none match the heft of the NBCUniversal channel that started life in 1982 with the slogan "We Take The Weather Seriously, But Not Ourselves." It has since moved on to more authoritative tag lines, but clearly hasn't abandoned its knack for branding. Nemo, far from being pulled from the annals of Pixar Animation Studios' popular fish film, is the brainchild of morning show producer Pete Schwartz, who suggested using Greek or Roman names when the initiative began last fall.
And what inspired it? Twitter. More specifically, the network noticed how the hashtag #snowtober resonated on Twitter when someone in the Weather Channel's social media department attached it to a nor'easter that came through in the fall of 2011, says Bryan Norcross, a meteorologist and hurricane specialist. He decided it was time to get more names ready to launch for fall 2012. "Everything needs a hashtag to get noticed," he says.
The motive for getting buzz is less about branding than it is about public service, Norcross insists. He and his colleagues decided that, like hurricanes, some storms need names to get noticed. The practice is common in Europe, though BMW discovered last year that its success in lobbying for "the Cooper" backfired when the cold wave claimed more than 100 lives.
But Norcross, who took on the project of coming up with this year's list, says the sole purpose of the names is to draw attention to severe weather. There's no trademark, no profit to be had—other than the ripple effects of attention like, say, er, media coverage. After dismissing popular baby names as too pedestrian, Norcross opted for his colleague's idea. He even sent the press release to the National Weather Service before it went public. "We wanted them to know," he says. "We didn't expect them to use our names. The government moves at a different speed."
Despite evidence to the contrary, Norcross says his conversations with senior staff at the federal agency have left him feeling optimistic. "They understand why we're doing it, but they're not sure it fits them at this point," he says. "Their mind is open." For now, at least, the service would love to #snowbliterate Nemo and whatever other storm god the Weather Channel folks happen to dream up.
Before it's here, it's on the Bloomberg Terminal.
LEARN MORE