Dear Haas Donor: Thanks for Bailing Out My B-School
Francesca Di Meglio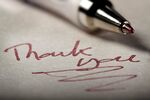 Miss Manners's heart might have skipped a beat recently. Handwritten thank-you notes are apparently in vogue at the University of California's Haas School of Business, and not just for recruiters who hold a student's fate in their hands. The school set up tables at the Bank of America Forum on Jan. 28 and invited students, faculty, and staff to pen personalized notes to Haas donors.
The school wouldn't say which bigwigs received mash notes, but presumably they would have been folks like Haas MBA alumnus David Eckles, who last year gave $1 million to expand the school's mentorship program for "under-resourced youth," and alumnus Gerson Bakar, who gave $25 million in 2007 to fund new faculty positions. A building was renamed in his honor. Haas's "True Blues," who give year after year—in some cases for close to four decades—also deserve some thanks.
One of the reasons administrators wanted to show their appreciation was because Haas could not function without donations. The school maintains that student fees fund only half the cost of running programs, with donations footing the bill for about a third of the remaining expenses. If Haas relied solely on student fees, it would have a lot of disappointed students on its hands: The school says it would have to shut down in December.
Hundreds participated, with many sharing specifics on how donors' money directly influenced their education or work, says Tyler Wishnoff, a senior in the Haas undergraduate program. Some of the notes included stories about accomplishments that would not have been possible without funding, such as research projects. Others included drawings.
Wishnoff, who is involved in fundraising for both the university and Haas, says he wrote more than 20 notes to thank donors for supporting public education and contributing to the Haas culture of giving back. "They're not just helping Haas," he says. "They're helping the business world."
Wishnoff has already donated at the leadership level, which means he has given $250 or more and has access to some perks, such as invitations to networking events. Still, as someone just starting out in life, he says he is grateful to those who are being more generous: "As a student, it's easier for me to write cards than write checks."
Join the discussion on the Bloomberg Businessweek Business School Forum, visit us on Facebook, and follow @BWbschools on Twitter.
Before it's here, it's on the Bloomberg Terminal.
LEARN MORE