Working Moms Need More Than Subsidized Breast Pumps
Breast pumps are now covered by health insurers. For working moms, that's not enough
Jessica Grose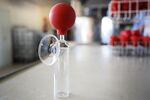 Pumping at work isn't pretty. It involves taking a foghorn-like device into a tiny, depressing room, attaching it to your aching breasts, and sitting for 20 minutes while your co-workers check items off their to-do lists. Facebook Chief Operating Officer Sheryl Sandberg has famously bragged about pumping while on conference calls during her time at Google. Katrina Alcorn, a Web consultant in Oakland, Calif., describes a more common scenario: Her company didn't have a lactation room, so she sat in a toilet stall to pump. Alcorn stored her breast milk in the office fridge. "Once, a co-worker sent an e-mail to the entire 40-person office complaining about the 'bodily fluids' in the refrigerator," she says. "It was tempting to give up breast-feeding altogether."
A good electric pump can cost $300 and is essential if you plan to breast-feed after maternity leave. In mid-October, my moms' message board lit up with some good news for put-upon pumpers: The Affordable Care Act requires private insurers to cover the cost of a breast pump without a co-pay. Many of the moms had no idea the benefit would kick in on Jan. 1. (Some insurers picked up coverage on Aug. 1, but most began paying for the devices in January, when their plans came up for renewal.)
Since then, women across the country have been buying subsidized pumps. Martin Gold, founder of Technology Access Partners, which advises medical-device companies, predicts an initial one- to two-year increase in sales, followed by a plateau at a higher level of demand than before the ACA benefit began. Market-research firm Global Industry Analysts estimates the worldwide breast pump market, growing at about 4 percent a year, will reach 5.63 million units by 2015, with sales mostly in the U.S. and Europe.
Paid-for pumps are an improvement for working women. "I probably would have had to settle for a pump that's less portable or user-friendly without the coverage," says Gwen Radsch, a mother of newborn twins and a research director at Youth Pulse, a marketing firm in New York City. Yet they're no panacea: Ask any mom who's had to schlep a pump to and from the office for several months or squat in that godforsaken room. And that's just for middle- and upper-class working moms. Low-income women face even more barriers. Hourly workers don't get paid for the time they take to pump, and many don't get paid maternity leave, returning to work within weeks of giving birth.
That's ultimately the problem for working moms at every income level—maternity leave, if it's offered at all, is all too brief. The American Academy of Pediatrics recommends that new mothers breast-feed exclusively for six months and continue breast-feeding until the child is a year old. That's much easier when you're in the same room as your kid. The Family and Medical Leave Act requires companies to give employees only 12 weeks of unpaid maternity leave, and that applies only to companies with more than 50 employees and workers who've been with a company for more than a year.
If Americans are committed to encouraging women to breast-feed, the biggest help won't be covering the cost of breast pumps. It will be catching up with the rest of the industrialized world by offering paid maternity leave for longer than a scant three months. (For perspective: Uzbek mothers get 18 months; Iranians receive 16.) Until then, we'll be waiting here in this cramped pumping room.
Before it's here, it's on the Bloomberg Terminal.
LEARN MORE