Scary Health-Care Statistics on the Broken-Down Boomer Generation
By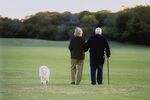 Aging baby boomers are fatter and sicker than their predecessors were at the same age, says a new study that's raising alarms about the future costs of health care and disability.
The study, published online on Feb. 4 by JAMA Internal Medicine, says boomers were less likely to report excellent health and to do regular exercise, and more likely to suffer from obesity, hypertension, diabetes, and other maladies. To pick one sorrowful example, they were twice as likely to use a "walking assist device," such as a cane. (See below for a statistical table.)
Boomers who are in poor health will not only have more expensive health care; they are more likely to retire early, depriving employers of their specialized knowledge. That's bad news for companies like Chrysler, FedEx, J.C. Penney, Raytheon, and Vanguard Group. All of those companies are members of the San Diego-based Disability Management Employer Coalition.
The JAMA study, if accurate, is "very discouraging," says Charlie Fox, president of the Disability Management Employer Coalition. "What we'd been hearing all along was that boomers were the most healthy," agrees Terri Rhodes, the coalition's manager of education programs. "There's been some thought that if we can hang on to boomers longer, we can hang on to their intellectual capital. If we're having a population now that's going to be disabled, that definitely is going to impact the sheer number of available workers."
Since the start of the 2007-09 recession, there's been a rise in the number of people filing for disability insurance and the government's Supplemental Security Income program. The Council for Disability Awareness in Portland, Me., which represents insurers, said last year that in its survey, "most, but not all, companies continue to believe the economic environment is a factor." But the JAMA Internal Medicine report makes clear that genuine deterioration in health is also a factor.
The study is by five researchers from West Virginia University School of Medicine and the Medical University of South Carolina, led by Dr. Dana E. King of West Virginia's Department of Family Medicine. It draws on data from the National Health and Nutrition Examination Survey, a project of the Centers for Disease Control. The boomer group had an average age of 54 during the study period of 2007-10. It was compared to a group of people who were the same age in 1988-94.
The study says that although boomers have a longer life expectancy than their elders, their health is another matter. Better habits would help, the authors say. "The present study demonstrates a clear need for policies that expand efforts at prevention and healthy lifestyle promotion in the baby boom generation," they write.
Now, some statistics pulled from the two-page report:
Eleven ways that aging boomers are worse off than their predecessors …
                               Pre-
                                     Boomer  Boomer
      Excellent health status          32%     13%
      Use a walking assist device      3.3     6.9
      Limited in work                  10.1    13.8
      Functional limitation            8.8     13.5
      Obese                            29      39
      Regular exercise                 50      35
      Moderate drinking                37      67
      Hypertension                     36      43
      Hypercholesterolemia             34      74
      Diabetes                         12      16
      Cancer                           10      11
… and three in which they're better off …
                               Pre-
                                     Boomer  Boomer
      Current smoker                   28      21
      Emphysema                        3.5     2.3
      Myocardial infarction            5       4
Before it's here, it's on the Bloomberg Terminal.
LEARN MORE