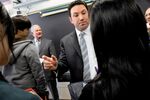 Ken Ulman knows the value of health insurance: His brother Doug, the chief executive officer of the Livestrong Foundation, beat cancer three times because he had coverage, Ulman says. That's a big reason Ulman's tried to expand access to medical care as county executive of Maryland's Howard County, just south of Baltimore. It's required some innovation.
In 2007 his administration struck a deal with a local hospital so more than 1,000 uninsured residents could receive low-cost care subsidized by the county. Johns Hopkins University researchers who analyzed the program early on deemed it promising. But then, in 2010, Congress passed the Affordable Care Act. It wasn't clear to Ulman and his public health director at the time, Peter Beilenson, that the program would meet the law's definition of an insurance plan, which all Americans are required to have by 2014.
The duo combed through Obamacare for a workaround and found a provision that funds the creation of nonprofit cooperatives to compete with commercial insurers. Local governments aren't allowed to run the co-ops, so Ulman and Beilenson recruited a board of Maryland residents to oversee the nonprofit they formed: Evergreen Health Cooperative. After it received $65 million in federal loans set aside by Obamacare, Beilenson left his county job and became the co-op's CEO. When the online insurance marketplaces mandated by the law go live in October, Evergreen will be the only one of 24 co-ops in the U.S. hatched by local government officials.
Ulman and Beilenson say Evergreen should attract working-class families who earn too much to qualify for Medicaid but don't get coverage from their employers. One of its options will resemble a typical fee-for-service plan in which patients choose their own doctors. Available to any Maryland resident, its premiums will be slightly less expensive than those of commercial insurers, Beilenson says. Customers looking for a better deal will have another option: The co-op is setting up its own clinics, dubbed medical homes, where doctors will be salaried instead of getting paid for every procedure they perform. That will keep the medical-home plan's costs down, Beilenson says. The goal is to undercut competitors by as much as 30 percent.
Patients who opt for the medical-home plan will choose a clinic in their region. Beilenson says teams of primary-care doctors, nurses, social workers, and "health coaches" trained to help patients develop a healthy lifestyle will manage their care, focusing on prevention. When doctors need a specialist's opinion, they'll take patients to so-called Skype rooms and link up by video conference with Evergreen specialists scattered throughout the state. The co-op will offer the medical-home plan in Baltimore initially, gradually expanding to other communities if the model works.
That's a fairly big if. Building an insurance company from the ground up is complex. Evergreen has to sign up doctors, negotiate payment rates, hire clinic staff, and establish financial reserves to pay the claims its members will eventually file. According to the Kaiser Family Foundation, Maryland has about 800,000 uninsured people; Evergreen wants to sign up 15,000 to 20,000 of them in its first year. It only has five years to repay the first $13 million of its federal loans. "It's a risky undertaking," says Les Funtleyder, an analyst at the New York-based investment fund Poliwogg who specializes in health care.
The Center for Consumer Information and Insurance Oversight, the agency overseeing the loans to co-ops, says it is confident those it's decided to fund will succeed. If Evergreen does, Ulman says it won't just be Marylanders who benefit. "We do have some resources here," he says. "This ought to be a place where we can create a model."
Before it's here, it's on the Bloomberg Terminal.
LEARN MORE