business
Geico's Gecko Has Written a Book
Geico's spokeslizard is coming out with his first book, You're Only Human: A Guide to Life
By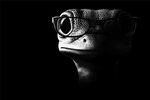 Geico's popular spokeslizard, the Gecko, has written and illustrated a book. It's called You're Only Human: A Guide To Life and will be released this April and sell for $11.95.
Workman, which is publishing the oeuvre, says it's still too early to comment on the backstory of the animated lizard's book deal but promises on its website that the Gecko "has spent the last few years traveling across America, like a modern-day de Tocqueville." What's more, it adds:
"He's a philosopher, an aphorist, a humorist, an artist, a warm companion, a natural storyteller—and, in a grand tradition, a keenly observant and wise outsider who in the course of living and traveling among us has discovered quite a lot about the things that make us human.

"He makes curious and interesting observations on everything from dreams to job interviews to adversity, Twitter to the Golden Rule (it's not what you think it is) to talking animals: I'm really not sure what all the fuss is about. Lots of animals talk, including humans. The bigger question is, what do you have to say worth listening to?"
What the book is intended to do for Geico's insurance business remains unclear, but the Gecko is only the latest in a long line of fictional characters to write an advice manual. Bart Simpson wrote A Guide to Life. So did Miss Piggy, whose other works include The Diva Code: Miss Piggy on Life, Love, and the 10,000 Idiotic Things Men/Frogs Do.

There have also been books by human TV characters. Leslie Knope, an overzealous deputy parks director on Parks & Recreation, played by Amy Poehler, in 2011 published Pawnee: The Greatest Town in America. a guide to the show's backwater Midwestern town. David Lynch's cult series Twin Peaks spawned three books: a "secret diary" of the murdered Laura Palmer; an autobiography of the show's main character, FBI agent Dale Cooper; and a guide to Twin Peaks.
Books written by TV show characters have an obvious appeal to fans, but is anyone really interested in getting better acquainted with the Gecko, likeable as he may be? And will the lizard's guide help Geico's insurance business? Warren Buffett has so far remained mum.
Before it's here, it's on the Bloomberg Terminal.
LEARN MORE