Apple vs. Einhorn: Why the Investor Is Suing a Company He Loves
Greenlight Capital's David Einhorn pushes Apple to return some of its $137 billion cash hoard to shareholders.
By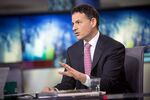 David Einhorn loves Apple. On CNBC and Bloomberg Television appearances this morning, the hedge fund manager described the company as "phenomenal" multiple times. He reiterated that the single largest position his Greenlight Capital holds is a bullish bet on Apple. In a press release, he said the company was "filled with talented people creating iconic products that consumers around the world love."
Einhorn has a cheerful, boyish face, and it almost appeared to pain him that all of this publicity has to do with him suing the company he loves.
Greenlight this morning announced a lawsuit intended to return some of Apple's $137 billion cash horde to shareholders. Slowing growth has led the company's stock to decline nearly 35 percent since its September high of $702, but Apple reported stratospheric sales in its most recent quarterly filing. Even after issuing a dividend last year, Apple has $145 in cash per share on its balance sheet. That's a lot.
"As a shareholder, this is your money," Greenlight said in an open letter it published (PDF) on its website, which called Apple's capital allocation policy "not satisfactory." Greenlight asked shareholders to vote against an Apple plan to eliminate preferred stock, and repeated its call for the tech giant to implement a perpetual preferred stock as a way to return hundreds of billions of dollars to investors. The legal action concerns Apple's decision to package several corporate governance issues into a single voting question for shareholders, which Greenlight wants to be separated into distinct proposals.
Apple responded to Einhorn's suit in a statement Thursday afternoon, saying that it is in the midst of "active discussions about returning additional cash to shareholders. As part of our review, we will thoroughly evaluate Greenlight Capital's current proposal to issue some form of preferred stock." Apple shares jumped more than 2 percent in just a few minutes after the announcement. The speed of Apple's response–not to mention the fact that the sphinx-like company responded at all–shows the reach of Einhorn's influence.
"Several hundred dollars per share would be unlocked if Apple were to follow through on this suggestion," Einhorn said of his proposals during the Bloomberg TV interview. He said he had spoken with Apple Chief Executive Officer Tim Cook on Feb. 6 in some detail, and that he hoped the dispute could be resolved amicably.
That might be difficult. Despite Einhorn's affection for the listing, Apple is the largest company in the world by market value, is highly secretive and deliberate, and doesn't like being pushed around. Einhorn has a long history of high-profile disputes with publicly traded companies. He is credited with single-handedly starting a 73 percent one-year drop in the price of Green Mountain Coffee Roasters with an October 2011 presentation, and he triumphed in a battle with Lehman Brothers before the financial crisis, spotting its insolvency problems well before many others.
Lately, activist hedge fund managers are all over the headlines: Bill Ackman of Pershing Square Capital Management has called Herbalife, the nutritional supplements company, a Ponzi scheme that deserves to go out of business; fellow hedgies Carl Icahn and Daniel Loeb have staked out the opposite position. Ackman and Icahn traded insults live on CNBC last month, in an exchange that riveted Wall Street.
With average hedge fund performance weak in recent years, activist investing is on the rise. The strategy involves building up a sizable position in a company, and then pressuring management to make changes that will boost the stock price. The Greenlight theory presumes that Apple treating its cash pile more liberally would also help it trade higher.
"There is a huge need these days for steady, high-quality income," Einhorn added. "What balance sheet would be safer to effectively have income coming from it than Apple's?"
Before it's here, it's on the Bloomberg Terminal.
LEARN MORE