Sally Jewell, Obama's Interior Pick, Has Something for Everybody
By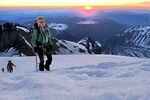 Sally Jewell, President Obama's reported pick for Secretary of Interior, doesn't fit many of the check boxes typically associated with the post. She's doesn't don a Stetson. She's not a politician from a Western state. She's not a man. But Jewell's unusual career path still might provide something for a number of constituencies.
1) She knows business. In 2000, Jewell left her job as the head of commercial banking at Washington Mutual to become the chief operating officer at the outdoor gear retailer Recreational Equipment, known as REI. In 2004 she became the member-owned cooperative's chief executive. Under her stewardship, REI grew to have 11,000 employees, more than 120 retail stores, and almost $2 billion in annual revenue. REI has gotten accolades as a great place to work, and the retailer has expanded into urban markets such as Manhattan, building off what Jewell calls the "urbaneering" trend of city residents looking to spend more time outdoors.
2) She knows energy. The Department of Interior oversees energy production on federal land and is in the middle of writing contentious rules for hydraulic fracturing on public land overseen by the department's Bureau of Land Management, which manages 245 million acres. Jewell is an engineer by training who spent three years working for Mobil Oil after college. As the oil industry was booming, Jewell switched to commercial banking, working as a petroleum engineer at Rainier Bank, valuing energy assets, according to the Seattle Times. She launched a 20-year banking career from there. This energy background could diminish disapproval in the oil and gas industry, which says the Obama administration has been limiting domestic energy production.
3) She is a conservationist. Part of REI's mission includes an emphasis on environmental stewardship, and Jewell is also vice chairman of the National Parks Conservation Association. This could cheer environmentalists as they gear up to lobby the department to keep energy production at bay on federal land.
4) She's a woman. She wouldn't be the first female interior secretary, but Jewell comes at a time when Obama has been facing scrutiny for not having enough diversity in his cabinet.
Jewell has never held political office, so she has less policymaking experience than previous interior secretaries. But that doesn't mean she's never had political ambitions. In a 2000 interview with the Seattle Times, Jewell revealed her dream job: "Being president of the United States." Because she was born in Britain, she's ineligible to be commander in chief. But if confirmed, Jewell will be one step closer to her fantasy.
Before it's here, it's on the Bloomberg Terminal.
LEARN MORE