In Germany, an Online War Against Résumé Padders
Aisha Labi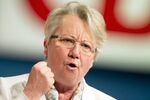 Can Germany's minister for education and research hang on to her job with just a high-school diploma to her name? That's the question facing Annette Schavan, who has occupied the post in Angela Merkel's cabinet since 2005. On Tuesday, the Heinrich Heine University in Düsseldorf stripped Schavan of her doctorate in education, citing evidence of "a deliberate deception by plagiarism" in Schavan's 1980 dissertation.
In Germany, doctoral degrees are common among politicians and business leaders. Before recent reforms of the higher-education system, graduates could even earn a doctorate without first progressing through a bachelor's or master's program, which is why Schavan's most advanced education credential is now the secondary-school diploma she earned as a teenager. Germans take their academic titles seriously, usually insisting on being addressed by their full list of honorifics. (Sticking to form, even as it announced it was stripping Schavan of her PhD, the university referred to her as Frau Professor Dr. A. Schavan.)
Now a band of online vigilantes is taking aim at what it sees as rampant title inflation and résumé padding among German elites. The loosely organized network of antiplagiarism sleuths has brought down both Schavan and former German Defense Minister Karl-Theodor zu Guttenberg, a popular politician once considered a potential future chancellor, who resigned in 2011 after his doctoral dissertation in law from the University of Bayreuth was found to have been largely copied. Following their success in exposing Guttenberg, the group named its successor wiki site VroniPlag, after their next victim: Veronica Sass, a member of the European Parliament.
Debra Weber-Wulff has been active in VroniPlag since it first coalesced online, spurred by a newspaper article raising questions about Guttenberg's dissertation. A professor of media and computing at the University of Applied Sciences in Berlin, Weber-Wulff also maintains a blog about plagiarism and scientific misconduct. She's one of just two members of the wiki group willing to be interviewed and identified by name. "This has been a festering sore for a long time that broke open with the Guttenberg case," she says. European countries have long histories of people brazenly violating scientific standards in their quest to burnish their CV's. "More and more people are saying, 'These guys make me sick.'"
The publicity surrounding Guttenberg's case inspired similar investigations in other countries that have also netted prominent political victims, including Hungary's president and Romania's education minister. Suspicious cases are usually brought to the attention of Weber-Wulff and her collaborators by a whistleblower, often a graduate student who has stumbled upon strikingly similar works. Every Monday evening Weber-Wulff logs into an online chat to discuss the group's agenda. The plagiarism detectors employ "great, simple technology," including visualization techniques such as barcoding to illustrate the level of similarities between passages and, more recently, optical character recognition technology, which converts scanned images into coded text. As of this week they have completed investigations of 41 plagiarized works.
Schavan's case was more complicated than Guttenberg's, which involved straightforward cutting and pasting from another academic's dissertation. "With Guttenberg, any sixth grader could see that it was plagiarism," Weber-Wulff says. "With Schavan, you pretty much need a bachelor's degree in philosophy to understand why it's plagiarism." Many academics, including Merkel, who has a doctorate in chemistry, supported Schavan, insisting that the investigation amounted to a witch hunt. Members of the site struggled with Schavan's thesis when they first began working on it in December 2011. "It never got off the ground," says Weber-Wulff. "It was this thing that you could say, I see that it's not clean, but you can't demonstrate it to the general populace at this point."
Frustrated with the pace, one member of Weber-Wulff's group decided to make the case against Schavan on his own. He documented his findings on a separate site, which eventually triggered the university's inquiry. While Guttenberg's dissertation consisted largely of direct plagiarism, or copying, Schavan's included more subtle "mosaic plagiarism," in which ideas and phrases are taken from a range of sources without identification.
Members of VroniPlag tend to guard their anonymity; Weber-Wulff says she has no idea of the identity of that dogged vigilante, who uses the name Robert Schmitt. "From the way he works, I know he is an academic, but I honestly don't know who he is," she insists.
For Schavan, the identity of her online nemesis is probably irrelevant. Opposition politicians have called for her resignation, saying she is no longer a credible education minister—in no small part because Schavan was unstinting in her criticism of Guttenberg when his plagiarism came to light. "As someone who wrote a doctorate myself 31 years ago and has worked in a professional capacity with many PhD candidates, I am ashamed, not only privately," she said at the time. Nevertheless, Schavan intends to stand for reelection to the Bundestag in September; her lawyers have announced that she will fight the university's action in court.
Before it's here, it's on the Bloomberg Terminal.
LEARN MORE