China's Leaders Say They Want to Close the Income Gap
By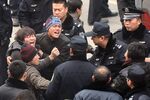 As China gets ready for its weeklong celebration of the new Year of the Snake, the country's leaders are on the road showing the masses their concern about the country's inequality problem. "Xi battles to help the poor" is the headline in the official China Daily newspaper reporting about Communist Party leader Xi Jinping's visit to one of the country's less-developed inland provinces. Xi, who will soon become China's president, went to a poor village in Gansu and told villagers there "the party and the government will assist you."
In December, Xi made a similar visit to a poor region in the central province of Hebei. These visits are part of a campaign to "signal a message that the country's top leaders care about people's lives as well as their resolve to close the income gap and pull poor people out of poverty," said Wu Hui, associate professor of Party building at the Party School of the Communist Party of China Central Committee, according to the China Daily.
China's Gini coefficient was 0.474 in 2012, data from the country's statistics bureau showed last month. That's above the 0.4 level used by analysts as a gauge of the potential for social unrest. On Feb. 4, the government released some details to show it is serious about narrowing the income gap. The State Council, China's cabinet, released a 35-point proposal that includes increases in minimum wages, loosening controls on lending and deposit rates, and increasing spending on education and affordable housing.
"Fairer income distribution is a fundamental move to safeguard equity and justice as well as social stability and harmony," the State Council said in a statement reported by the official China Daily newspaper. The People's Daily added: "To speed up income distribution reform is an urgent task, and represents public expectation."
The government has some ambitious goals. It wants to double per-capita income from 2010 to 2020, with a focus on boosting incomes for China's poor and middle class. The government wants to spend more on education, health care, housing, and pensions by 2 percentage points, with the total funds earmarked for those areas rising from their current 36 percent of total expenditures. By 2015, the plan calls for an increase in minimum wages so they are at least 40 percent of average urban income. And state-owned enterprises will increase the amount of profit they return to the government, with the dividends going to more spending on social programs.
The plan is getting some good reviews. "This comprehensive plan calls for stronger support for lower-income groups, higher dividend payouts by SOEs, and increased social security spending," HSBC economists Qu Hongbin and Sun Jinwei write in a report published Feb. 6. "Broader reforms in the financial, fiscal, and urbanization arenas were also announced. Expect a chain reaction to unfold from here onwards."
Still, the government is already trying to lower expectations about its ability to address the problem of inequality. "Deepening the income distribution reform is a systematic project that is arduous and complicated and concerns the reallocation of various interests," said the State Council in its statement announcing the new plan. "There is no way to accomplish it overnight."
There's good reason to be skeptical. Although the government wants Chinese state-owned enterprises to increase by 5 percentage points their contribution of returns on equity, that's not sufficient, according to Wang Tao, chief China economist at UBS in Hong Kong. The 5 percent increase is "very disappointing," Wang told Bloomberg News.
Before it's here, it's on the Bloomberg Terminal.
LEARN MORE