SAC Capital Unveils a Possible Defense in Trading Case
By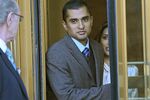 Talk has begun of a possible defense Mathew Martoma might present against criminal charges that he traded on inside information while he was employed as a portfolio manager at SAC Capital.
Martoma's argument is of interest for many reasons, not least that it could shed light on the strength of a case that authorities might potentially be building against his former boss, SAC founder Steven Cohen. The government has alleged that Martoma sold out of a long position in drug stocks Elan and Wyeth in advance of negative drug-trial results, thereby avoiding significant losses, and that SAC then shorted both stocks, earning millions in profit. Cohen is alleged to have participated in the trades.
Martoma pleaded not guilty to the charges on Jan. 3. Cohen has not been accused of any wrongdoing, and through a spokesperson he and SAC say that they have acted appropriately and are cooperating with the inquiry.
In short, the defense's argument is that the government has got everything all wrong. The theory was first floated about three weeks ago, during a pretrial conference in the Securities and Exchange Commission case against Martoma and CR Intrinsic, the SAC unit where Martoma worked. Lawyers for CR Intrinsic argued then that the SEC shouldn't be seeking the level of damages it was seeking—three times the alleged profit and avoided losses from the trades.
During the hearing, Daniel Kramer, a partner with Paul, Weiss who is representing CR Intrinsic, said: "We have some serious issues with respect to the complaint, but we will obviously not hide the ball. We'll be fully transparent."
The defense's argument was that the fund wasn't short Elan and Wyeth at all, that the positions were perfectly hedged, and therefore the fund didn't earn any profits from the short position, as the government has alleged. Defense lawyers also hinted at an additional line they plan to pursue: that CR Intrinsic is not liable for Martoma's actions.
The bold declaration—made in a public courtroom, no less—sent investigators scrambling to review their case. After a tense few days, they came away feeling confident that their initial assessment was correct, according to a person familiar with the inquiry.
The session ended with the judge suggesting May 17 as a date for a follow-up conference. "Your Honor, you hit my son's graduation from college, I'm afraid," Kramer said, according to a court transcript. They decided on May 24 instead.
Meanwhile, the Feb. 14 quarterly redemption deadline for SAC investors is rapidly approaching.
Before it's here, it's on the Bloomberg Terminal.
LEARN MORE