business
Revenue-Based Financing: The Better You Do, the Quicker You Pay
Verne Kopytoff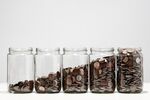 Mike Glanz, chief executive of HireAHelper, a website for finding help with moving, wanted to hire additional computer programmers to work on an important project. The problem was that he didn't have money to pay their salaries.
Glanz's options seemed limited. No bank would make a loan to someone whose company wasn't profitable and who didn't have collateral. Angel investors would demand too big a stake for a relatively small infusion of cash. The project, he thought, would have to wait.
Then Glanz heard about Lighter Capital, a Seattle-based investment firm that offered an unusual type of loan. Instead of paying a fixed amount of interest, borrowers promise a share of future revenue until the debt is satisfied. Most important to Glanz, such loans do not depend on a company's profitability or collateral. He applied online for a $200,000 loan and was pre-approved within a few minutes.
"It was super fast," says Glanz, who finalized the loan and received the money a few weeks later. "We hired the people, built the products, and ended up signing some really big partners."
Revenue-based financing, as such loans are known, can be an attractive alternative for small businesses that are unable to borrow from traditional banks. Companies get access to capital without some of the downsides that come with more common types of financing. A business that collects no revenue in a particular month doesn't have to make a payment, for example. Nor do borrowers have to give up equity or board seats to the lender.
But the practice can be costly. The effective interest rate is usually between 18 percent and 30 percent. Moreover, it is not for every business. Slow-growing companies, as well as those without revenue or with thin gross margins, need not apply.
B.J. Lackland, chief executive of Lighter Capital, explained that the revenue-based approach fills an important hole in small business financing. Tight bank lending standards leave many startups with few options other than bootstrapping. He pointed to software companies in particular. Many are too small for venture capitalists—who prefer to invest millions of dollars, not a few hundred thousand—and too narrowly focused to become the next Instagram-like bonanza.
Lighter Capital's loans range from $50,000 to $500,000. In exchange, companies usually pledge 2 percent to 8 percent of their revenue until the amount repaid reaches a certain threshold, usually two to three times the amount borrowed. Loan terms are typically structured so that repayment takes two to three years, depending on the company's expected revenue growth.
Ultimately, the duration depends on the borrower's actual financial performance. Companies that lift their sales faster than they planned pay off their debt more quickly. At any time, companies with enough cash on hand can decide to fully repay their loans and save on some of the cost.
Unlike banks, Lighter earns a bigger return from companies that satisfy their loans quickly. The longer it takes, however, the lower its return. "If they pay back in a year and a half, we've made an incredible return on investment," Lackland says. "If it takes eight years, it's not so great. Our risk is that they don't grow. If they grow, it's good for them and good for us."
Since its founding two years ago, Lighter Capital has made 27 loans to 19 companies. Only one borrower has defaulted on its payments after going out of business, Lackland says. His firm can recover assets from bankrupt customers, although there is usually little of value that remains. "We don't ask for a personal guarantee," Lackland says. "We won't come back and ask for an entrepreneur's house."
HireAHelper, based in Oceanside, Calif., paid off its loan early, after only a year. The project the loan funded helped to significantly lift the company's revenue. Until then, Glanz and the other founders had funded the company out of their own pockets by maxing out credit cards and forgoing salaries. Their experience with the revenue-based loan went well enough that Glanz says he's open to taking out a second one if no cheaper alternatives are available.
Revenue-based financing isn't a new phenomenon. Hollywood filmmakers, oil drilling outfits, and pharmaceutical companies have used it for years to finance the high upfront cost of their businesses. But in recent years, such loans have generated interest from investment companies trying to expand the focus to other industries, particularly technology, because of its high growth and high margins. At least a dozen lenders are pushing revenue-based financing today. There's no data about the number of revenue-based loans issued, or their overall value, but clearly the niche is still very small.
Some companies take out revenue-based loans along with other kinds of financing. A mix of sources can make sense, particularly if a company is trying to raise as much money as possible. When it came time to expand his medical software start-up, David Lischner, chief executive of Valant Medical Solutions, cast a wide net for financing. It was his first time trying to raise money beyond bootstrapping, and he was unsure which of his fundraising efforts would work out.
Lischner, whose Seattle company provides electronic medical records to psychiatrists, could not turn to a bank for money because of a lack of collateral and consistent sales. That's a common refrain among software companies, which own little equipment beyond computers, desks, and chairs.
Angel investors ended up providing $1 million. Taking more would have meant giving up more equity in the company than Lischner wanted to cede. Still, he hoped to raise a bit more money. Eventually, Lischner took a $250,000 revenue-based loan. "It was just a matter of running the numbers," Lischner says. "Does it make sense to us, given the scenarios?"
Lischner liked that the loan came with less risk than traditional borrowing. If sales stalled, the company's payments would decline. "We would be less likely to get caught in a situation where we couldn't bootstrap our way out of it," Lischner says. "We wouldn't be locked into a set monthly payment that would trap us. It turned out that it wasn't an issue. We had phenomenal growth."
Since his company is still paying off its loan, Lischner declined to disclose the terms. He acknowledged that the effective interest rate was relatively high. But he added that any complaint about the cost was offset by how the money helped to fuel the company's growth.
Chris Russell, managing partner for Rock & Hammer Ventures, a revenue-based lender in North Logan, Utah, says he expects revenue-based financing to gain momentum in the next few years. In a signal of its acceptance, he says, some angel investors are willing to provide such loans to startups, if asked. Traditional sources of small business financing are not going to be replaced, however. "It's not going to take over venture capital or endanger early stage angel investments," Russell says. "Those will always have a place."
Before it's here, it's on the Bloomberg Terminal.
LEARN MORE