Money for Startups: Kauffman's State of Entrepreneurship Address
by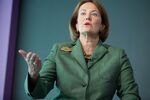 Beyond the obvious sources, where are startups finding financing and other types of support today? What's been done to make it easier for entrepreneurs to tap traditional funding sources since the financial crisis? And how are Washington and the private sector helping?
These are the kinds of questions Small Business Administration chief Karen Mills, Senator Jerry Moran (R-Kan.), and a handful of others will be trying to answer on Tuesday afternoon at the Kauffman Foundation's fourth annual State of Entrepreneurship Address in Washington. They're likely to emphasize a small fraction of America's 28 million small businesses—high-growth young ventures that account for a disproportionate share of job creation—as crucial to strengthening the U.S. economy.
Expect to hear a bunch of policy prescriptions that call for relaxed regulationsf—from urging the Securities and Exchange Commission to avoid making its forthcoming crowdfunding rules overly burdensome for entrepreneurs to allowing company shareholders to vote on whether they think Sarbanes-Oxley accounting rules are necessary.
Bloomberg TV is streaming the event live from 12 p.m. until 2 p.m. East Coast time; you can watch it here. If you miss the live webcast, you'll also be able to watch it here.
Before it's here, it's on the Bloomberg Terminal.
LEARN MORE