Innovation Is Not Just About R&D
Harold L. Sirkin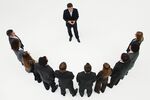 The biggest questions facing every executive are: How can we get there from here? How can we increase market share, revenue, and profit? What's the best way to reduce costs, employee turnover, and bureaucracy? What's the next "big thing" in our industry, and how do we get there first?
The answer to all of these questions comes down to a single word: innovation.
Many people—including a lot of senior executives I've talked to—think innovation is primarily a research and development function. But innovation should be understood to include the entire value chain: from R&D to engineering, manufacturing, distribution, sales, marketing, and even facility utilization and investment strategy. Only a few innovations will be blockbusters. Some will result in incremental changes, but that doesn't make them any less important.
Three of my colleagues at Boston Consulting Group—Andrew Taylor, Kim Wagner, and Hadi Zablit—recently released our annual report on the world's most innovative companies. As you might expect, the list—compiled from the recommendations of more than 1,500 senior executives worldwide in a broad range of industries—includes a number of perennial leaders, marquee brands such as Apple, Google, Samsung Electronics, and IBM.
What they found in their survey wasn't surprising: Most respondents—76 percent, in fact—ranked innovation as a "top-three" strategic priority for their company. What was surprising was that 85 percent of the CEOs surveyed ranked it in the top three, with 40 percent ranking it No 1.
The reason for this is understandable: Innovation pays. The 50 companies on our latest list beat their industry peers in total shareholder returns by 6.3 percent during the most recent three-year period. Over a 10-year period, the figure was 3.5 percent, reflecting the challenge of sustaining long-term momentum in innovation.
Whatever form innovation takes, the goal, of course, is to create value from ideas. A lot can be learned by studying the top innovators, and my colleagues identified a number of best practices:
1. Top innovators get their customers involved in the process early—even at the "idea-generation" stage. Customer feedback throughout the process not only can help top management decide when to move ahead more aggressively, it also may help them decide when to cut their losses, so unsuccessful projects "fail fast and fail cheap."
2. Top innovators effectively use data to drive tough decisions. This is especially true when trade-off decisions are involved. Too many companies make decisions based on the "gut feeling" of executives. Top innovators have systems in place that enable them to better evaluate how new projects align with the company's business priorities and strategies. This, in turn, helps leaders decide which projects should be discontinued and which should receive additional funding.
3. Top innovators think strategically about trade-offs. They don't make decisions based on last year's budget. They make decisions based on the size of the opportunity that lies ahead.
4. Top innovators realize and capitalize on the fact that innovation is a function of intellectual property.
5. Top innovators are those best able to put ideas into motion.
One of the best books on the importance of ideas was written nearly three decades ago by the late financial journalist Warren T. Brookes. It was called, simply, The Economy in Mind. Brookes's thesis was that long-term economic progress depends on brainpower, rather than muscle power. BCG's research proves the point.
Before it's here, it's on the Bloomberg Terminal.
LEARN MORE