From Junk Bonds to Jazz: Pi Recordings' Yulun Wang
By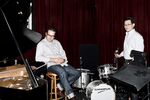 Yulun Wang thinks of himself as a guy who can solve complex problems. He did it frequently during his nearly two-decade career in investment banking. After working as a quantitative analyst at Security Pacific National Bank, he shifted to municipal bond re-financings at Dillon, Read & Co. But once the Internet bubble burst, Wang—who was, by 2002, doing junk bonds and derivatives at UBS—decided it was time for a change. "I had no interest in working in investment banking any longer," he says. "Toward the end, the bureaucracy and internal politics wore me down, and the work I was doing began feeling increasingly meaningless."
Wang, now 47 years old, felt a calling to produce jazz records—and not just any jazz records. He hoped to release the kind of obscure and noncommercial avant-garde albums that were briefly in vogue in the 1970s, like the ones by the Art Ensemble of Chicago, whose members painted their faces and donned African masks when they performed. So Wang, who had fallen in love with jazz as a high school student, started producing albums for Pi Recordings, a small New York-based label that has surprised the music world by reinvigorating the careers of such jazz greats as saxophonists Henry Threadgill and Steve Coleman, while launching young artists like pianist Vijay Iver and saxophonist Rudresh Mahanthappa.
As a result, Wang and Seth Rosner, the 40-year-old label's founder—who works in the daytime as a managing director for his family's real estate company—have themselves become stars. Last year, participants in the DownBeat critics poll named Pi Recordings the No. 4 jazz label and its co-owners the third-most-important producers in jazz. "It's a really good label now, an imprimatur," says New York Times jazz and pop writer Ben Ratliff. He compares Pi Recordings to jazz imprints such as Savoy, Blue Note, and Verve, which showcased artists like Billie Holiday, Thelonious Monk, and John Coltrane.
Part of the reason Pi has been successful—and profitable, according to the owners—is the demise of the large recording industry. As the major labels saw their returns slide with the rise of the Internet, they trimmed their jazz rosters. "When Yulun and I first met in 2003, one of the first things we spoke about was how Sony Columbia wasn't really going to be in the game any longer, and Blue Note was heading in a different direction after the success of Norah Jones," Rosner says. This meant that many of their favorite artists were now at large. "There were all these guys floating around out there who were not recording," says Wang. "I was following the labels from a distance, thinking: 'Well, I'm going to get into that business.'"
There were plenty of complex problems for Wang and Rosner to help solve. Pi artists don't have huge audiences, but they have healthy egos. Early on, Threadgill insisted that Pi release two of his albums at the same time. (The label agreed.) Rosner e-mailed Steve Coleman for several years before the saxophonist responded. "I must have e-mailed him 10 times a week," Rosner admits. He and Wang took it upon themselves to reunite the Art Ensemble of Chicago in the studio after the group had been inactive for a decade. "To me this was like Led Zeppelin getting back together," says Wang.
Once Rosner and Wang had ingratiated themselves with such established names, it wasn't hard for them to attract future luminaries. "They have really branded their label in a specific and successful way," says Mahanthappa, who recorded four albums for Pi as a leader before signing with ACT, a larger German label.
The younger members of the artisanal label's lineup are not without their quirks. In 2011, Pi Recordings released Synastry, a much-praised album by vocalist Jen Shyu. Then the singer vanished. "She got a Fulbright Scholarship to spend 18 months in Indonesia, studying the Gamelan vocal tradition," Wang laughs. "This is someone who is saying, 'All right, I finally put an album out on a label that people have actually heard of. My career is going to take off. But I have this great opportunity.'"
Before it's here, it's on the Bloomberg Terminal.
LEARN MORE