For Baidu, the Search Game Is Getting Harder
by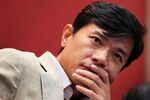 For years, Baidu Chief Executive Officer Robin Li has said he doesn't want to be a one-market player.
Yes, Baidu was the leader in China but Li had made his first overseas foray into Japan and talked about entering other markets. Still, it was hard to see why he was so concerned about moving beyond China. Even before Google retreated from China in 2010, Baidu enjoyed unquestioned dominance of the Chinese search market, and Google's exit just made Baidu stronger. Li's company now has 80 percent of China's search market as measured by revenue.
Following the Feb. 5 plunge in Baidu's stock, Li's interest in other markets no longer seems so off-base. The search company's U.S.-listed shares dropped 10 percent following Baidu's announcement of quarterly earnings on Feb. 4. Revenue for the first quarter may be as little as $954.4 million, Bloomberg News reported; that figure is below the $969 million mean of 11 analysts' estimates.
Investors are skittish because Baidu now faces new challenges that threaten its longtime position as the undisputed king of Chinese search. There's a new competitor, Qihoo 360, the antivirus software company that entered the search business in August and now has about 10 percent of the market. Qihoo is still tiny compared with Baidu, but for the first time since Google's departure, Li's team faces a strong competitor in China.
At the same time Baidu is contending with Qihoo, the company faces the bigger challenge of a shifting marketplace. China's Internet users are turning off their computers and instead are starting to rely more on their smartphones and tablets to go online. As Morgan Stanley analyst Richard Ji writes in a Feb. 5 report, more people in China accessed the Internet via mobile devices than from desktop PCs for the first time in 2012. "Mobile Internet, which is entering the sweet spot in China, may present a near-term challenge to Baidu, due to heavier competition and the uncertainty of revenue models," Ji says.
The transition to smartphones instead of PCs is proving tricky for Baidu. The company has made some progress: Baidu has 80 million daily active users on mobile, and its mobile map app gets 3.5 million users per day. Making money from those people isn't easy, though. "Despite incremental traffic coming from mobile rather than desktop, Baidu has not been able to monetize any meaningful revenues from the mobile platform," according to a report by four Barclays analysts led by Alicia Yap in Hong Kong.
With more competition in the traditional PC business as well as mobile, it is becoming costlier for Baidu to stay on top: Traffic acquisition costs increased from 7.9 percent of overall sales a year earlier to 9.6 percent now.
So this is a good time to look at what Li is up to outside of China. His company has launched operations in Thailand, Vietnam, Egypt, and Brazil. The businesses are small and they are not about to be significant drivers of Baidu results for a while, but they do show Li is interested in following up on his talk about making Baidu a global player.
For instance, in September Baidu introduced Baidu PC Faster in Thailand, offering protection against viruses and other malware. Baidu also operates a Thai-language portal, http://th.hao123.com, and has similar websites in Egypt and Brazil using the hao123 name. (The Baidu brand might just confuse Thai users, since Baidu doesn't offer Thai search of its own yet; search queries on th.hao123.com go to Google.)
When choosing markets to enter, spokesman Kaiser Kuo told me recently, Baidu has a bit of a Goldilocks strategy. "We don't want markets that are overdeveloped like North America, Western Europe, or Korea. Nor do we want markets that are infrastructurally underdeveloped," he said. Instead, Baidu is "looking for markets that are large and have quickly growing Internet populations, with enough new market share to be opened up that we felt we had a good chance."
Before it's here, it's on the Bloomberg Terminal.
LEARN MORE