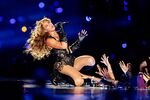 Cadillac Records would be worth seeing for the music alone. Mr. Wright's renditions of Muddy Waters's signature songs are more than respectable, while Ms. Knowles's interpretations of Ms. James's hits—At Last and I'd Rather Go Blind, in particular— are downright revelatory. …

And so, it should be said, is Ms. Knowles's performance. In her previous film roles she has seemed guarded and tentative, as if worried that her charisma would melt from too much emotional heat. Here, playing a needy, angry, ferociously talented and fantastically undisciplined woman, she is as volcanic and voluptuous as an Italian movie star. Or, more to the point, a real soul diva of the old school.
—A. O. Scott, "Got Their Musical Mojo Working," The New York Times, Dec. 4, 2008
How lame am I? The One became Three as Beyoncé invited the girls on stage during her Super Bowl set. I had zero clue that this was Destiny's Child.
I first ran into Ms. Knowles—and it is Ms. Knowles—amid the booze, chrome, and depressive pressure of the movie Cadillac Records. (Disclosure: Andrew Lack, who creates my employment, co-produced said movie; I am told from reliable sources that, post-DVD sales, this epic at least broke even.) As Mr. Scott describes above, Cadillac Records is must-Netflix for the music alone. O.K., in 2009, it was not ready for your Oscar consideration but it deserves your slavish attention for one wrenching scene:
Ms. Knowles will steal your soul as Etta James.
You will never, ever again listen to Ms. James—or Carmen MacRae for that matter—with the same cast. You will never, ever associate Ms. Knowles as … a child.
She will not be what you saw in New Orleans.
I do not have the time to stay current on Beyoncé gossip, past, present, and future.
What I know for certain is that the Knowles I first observed is miles from the critics's critique, post-Mercedes-Benz Dome, Pepsi halftime, James Nance-golf drone, when do we tear-up over the Budweiser pony with Stevie Nicks safely singing?
The present and entire Beyoncé act is a fabrication of gifted talent and intellect moving a career forward.
The appalled Twitterati—and I counted a Pepsi-inebriated gazillion—can measure, debate, and judge our nation's outrageous, sanitized, fringed sex. (We just leveled 20+ children in Connecticut and we're worried about surrey-with-a-fringe-below?)
Watch, see, and study Cadillac Records. See Destiny's Adult. Discuss.