The Corporate Winners and Losers of Super Bowl XLVII
Mercedes-Benz is up; CBS down.
By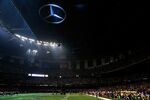 The Super Bowl is always a contest in brand exposure. Last night's half-hour power failure scrambled the equation for broadcasters and advertisers as well as the two teams. Here's a Monday morning breakdown of who won and who lost the reputation game.