Tagg Romney Should Run for John Kerry's Senate Seat
By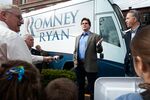 When ousted Massachusetts Senator Scott Brown shocked Republicans last week by forgoing the special election to replace John Kerry—Brown was the clear favorite and the strongest Republican candidate by far—political insiders jokingly suggested that Mitt Romney might return to Massachusetts and pursue the open Senate seat. Romney maintains a home in Belmont and doesn't seem to be doing much besides puttering around since his loss in November.
Romney advisers quickly shut down that speculation, as well as chatter that Ann Romney, who had a better touch than her husband at retail politics, might jump into the race. But according to the Boston Herald, there may still be a (slim) possibility that a Senator Romney will emerge from the June 25th special election: It would be Tagg Romney, Mitt and Ann's eldest son.
Any Romney would presumably face long odds in Massachusetts: Mitt drew only 38 percent of the vote last November. And, unlike his father when he first ran for statewide office in the 1990s, Tagg isn't a renowned businessman and pillar-of-the-community type (as one wag put it, he's "Mitt Romney without the business experience"). In fact, the politician Tagg Romney most resembles isn't Mitt, but George W. Bush. Like Bush, Tagg has a famous name and a Harvard Business School pedigree but never found the kind of career success that distinguished his father. He's currently a principal of Solamere Capital, a private equity firm he founded, which, like Bush's oil company, is built mainly on family connections (his dad's former finance director is a co-founder, and his mom's blind trust is a big investor). Also like Bush, Tagg is amiable, good looking, and has even dabbled in Major League Baseball—in the mid-2000s he was head of marketing for the Los Angeles Dodgers. But at 42, he still seems to be casting around for a larger role. (The best Tagg profile is this one by the New Republic's Noam Scheiber.)
Yet even if he were to lose, a Senate race wouldn't be a bad move. Both Mitt Romney and George W. Bush lost their first races before going on to win statewide elections. And Massachusetts Republicans don't have a very deep bench: Nearly every recognizable name, from former Governor William Weld to former Lieutenant Governor Kerry Healey, is expected to pass on the special election.
And anyway, running for office and losing isn't all bad. As the Boston Globe's Matt Viser reports, Mitt Romney was just enshrined in the nation's only museum of presidential losers, which sits above a bank in Norton, Kan. Admittedly, the ceremony lacked Beyoncé and all the other pomp and circumstance of a presidential inauguration. (You can watch video of it here.) But Tagg is young enough to exceed his father's political accomplishments—so long as he gets started soon.
Before it's here, it's on the Bloomberg Terminal.
LEARN MORE