MBA Journal: Keeping a Cool Head at B-School
Neal Nisargand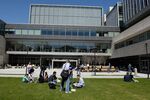 There I stood, in a circle of 15 dark-suited aspiring investment bankers, jostling for position, trying to ask an intelligent question to the managing director who was holding court. The banker worked the crowd, asking each of us to give our life story in a 10-second elevator pitch. "This is how they decide who to hire?" I wondered.
Internship recruiting at business school hits you like a bus. You have been strolling through orientation and a couple weeks of class, and then bang, the recruiters arrive and you spend every free hour in a corporate presentation. I, as an aspiring banker, was among the first to don a suit for recruiting, but the aspiring consultants, marketers, and general managers sported theirs soon afterward. Yet, let me return to the beginning of the story, before the recruiting onslaught began.
Chicago-Booth is an institution known for its laissez-faire style and spirit of free choice. From the beginning, Booth students can choose to take whichever courses they want. We are not assigned learning teams, and the expectation is that we find our own path. I found these choices overwhelming: How many classes should I take? Which clubs should I join? What internship should I aspire to do? The independent culture assures that no two students take the exact same path, both an exciting and terrifying prospect as we must truly define ourselves.
Fortunately, the first course we took at Booth helped us reflect on our past experience and goals and readied us for independence. Starting at orientation, all MBA students take LEAD, the school's leadership curriculum. As the LEAD director said, "We cannot transform your leadership over 10 weeks, but think of this as preseason where you watch film and make yourself better." Over the course of the first quarter, we formed squads of eight students and participated in challenges, including ropes courses, case competitions, and other exercises that were often videotaped, so we could watch how we interacted as a team. I learned how to develop my leadership style through my individual personality rather than through one-size-fits-all management principles. Now that I am mired in classes and recruiting, I often think of the simple days during our LEAD retreat in Lake Geneva, Wis., where I enjoyed beautiful fall weather and developed friendships with my new classmates.
From what I have described about the challenges of pondering a career and finding a job, one may wonder how an MBA student keeps himself sane. Fortunately, our second-year compatriots, most of whom have secured full-time employment, have built a support system for us. Every Thursday night, Booth students participate in the long-celebrated tradition of Thursday Night Drinking Club (TNDC). TNDC consists of hundreds of Booth students converging on a local Chicago bar and spending the evening downing frosty beverages (the official Booth term for beer; I am not making this up). For me, nothing sums up a challenging week at Booth quite like unwinding with classmates. For those with Friday morning class, the week only gets more challenging.
Between journal entries, you can keep track of Neal's business school adventures at the Business Schools Facebook page. Follow the Bloomberg Businessweek B-Schools team on Twitter.
Before it's here, it's on the Bloomberg Terminal.
LEARN MORE