Le Whopper Duels Le Big Mac in Burger King France Return
Julie Cruz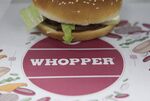 Once a week, Vincent Bonnaire drives 15 miles (24 kilometers) from his office in Aix-en-Provence to Marseille airport in the south of France. He's not catching a flight. He just wants his weekly Whopper fix.
Bonnaire, a 28-year-old electrical equipment salesman, can once again enjoy his favorite burger, the Double Cheese Bacon, in France. After a 15-year absence -- during which rival McDonald's captured almost half of the 9 billion-euro ($12 billion) French fast-food market -- Burger King Worldwide Inc. returned to France in December. In the coming months, it plans to open its second outlet, off a highway in Reims.
Burger King's first French foray was haphazard, according to a former manager and industry experts, and ended with a quiet retreat after shuttering its 39 restaurants. This time, Burger King has hedged its bets, sharing costs with Italian restaurant operator Autogrill SpA. At stake is one of McDonald's biggest markets based on sales and profits.
To beat McDonald's and European rival Quick, which have gobbled up the best locations and tailored their menus to French tastes, the Miami-based chain must emphasize the flame-grilled burgers that have won passionate fans, according to Michael Schaefer, an analyst at researcher Euromonitor International.
"They have the name recognition, that weird cult following in France," Schaefer said. "That's kind of half the battle. The best thing for Burger King right now is to keep it simple and focus on things people know."
Peru, Siberia
Another failure in France could sour investors on Burger King's shares, which have advanced about 20 percent from the company's opening share price on its June 20 return to the New York Stock Exchange, after owner 3G Capital Inc. completed a merger with a company co-founded by activist investor William Ackman. The stock has outpaced both McDonald's and the Standard & Poor's 500 index since then, bolstered by an international push that has taken the chain into places as far-flung as Siberia and Peru.
Burger King dropped 0.5 percent to $17.25 at 12:50 p.m. in New York trading today, while McDonald's rose 0.6 percent to $95.18. The Standard & Poor's 500 Index climbed 0.9 percent to 1,509.01.
A setback in France "would be a very big blow for the organization and for the brand," said Darren Tristano, executive vice president at researcher Technomic Inc. in Chicago.
Burger King is saying little about its plans in France, where the fast-food market will grow 17 percent to 10.5 billion euros by 2016, Euromonitor predicts. Autogrill provides expertise "in the travel sector," according to e-mailed comments from Leo Leon, Burger King's general manager for Europe, the Middle East and Africa.
Beefy Menu
Autogrill, based in Novara, Italy, runs restaurants -- including more than 140 Burger Kings -- in airports, railway stations and roadsides on four continents. The Reims location will employ about 20 people, according to Emilie Rengnez, a spokeswoman.
The Autogrill pact allows Burger King to test the waters without big upfront investments, said Jerome Hamrit, head of the consumer and retail practice at A.T. Kearney in France.
Burger King may benefit from its beef-heavy menu, a contrast to that of McDonald's, often called "McDo" in France, which has increased its offerings of fare such as salads, fruit and pastries. Burger King should focus on the basics such as its 5.40-euro Double Whopper, said Suzanne Stahlie, managing director at consultants FutureBrand in Paris.
Distant Lover
"We can go to McDonald's to eat ice cream or have a coffee," she said. "People go to Burger King for the American burger."
Burger King's best weapon may be the nostalgia the French have for the brand, which has translated into waits that can stretch to 45 minutes or more during lunch at the Marseille airport location.
Since Burger King quit France, it's become "like a lover who lives far away," said Gauthier Boche, a lecturer at Celsa, the information and communication sciences department of Paris Sorbonne university. "As soon as French people get to London or Ibiza, they go to Burger King."
Burger King's fans have used social media to keep that love affair going, creating French-language Facebook pages that call for Burger King's return. A homemade video of two willowy hipsters singing a song called "Whopper & Whopper" has received more than 63,000 views on Dailymotion, a French alternative to YouTube.
Champs-Elysees
Turning nostalgia into sales won't be easy. France is McDonald's third-biggest market worldwide by revenue, with 4.3 billion euros in sales from 1,260 restaurants in more than 930 towns. At 3.95 euros, Le Big Mac is still the menu's mainstay. But McDonald's has sought to appeal to French palates with the 2-euro "Le Croque McDo," inspired by the "croque monsieur" ham-and-cheese sandwich, and its new 4.50-euro McBaguette, which has been praised by Pierre Koffmann, the former chef of La Tante Claire, a Michelin-starred restaurant in London.
To carve away at McDonald's 47 percent market share in France, Burger King will have to be more innovative than it was last time around, when the chain suffered from a lack of investment by parent company Grand Metropolitan Ltd. and its successor Diageo Plc, said Mayad Mehanna, who worked for Burger King in the 1990s and closed down one of the last of its locations, at Charles de Gaulle airport.
Foie Gras
"McDonald's was taking risks and opening stores across France and that's why they won," said Mehanna, who now works at SSP France, a competitor to Autogrill. "We didn't have any budget for marketing, the outlets looked really old and Burger King didn't want to take risks. It's almost like they just wanted out."
Since McDonald's arrived in the country in 1979, it has locked up high-traffic locations in malls, on motorways, and in city centers, including two on the Champs-Elysees in Paris.
"Burger King's biggest challenge in France is going to be finding real estate," said Chris Igwe, head of the retail department at CB Richard Ellis in Paris. "They can't just go into airports and peripheral cities. You've got to at some stage bite the bullet and go for a big city."
Burger King will also compete with closely-held Quick, France's No. 2 fast-food chain by sales, with 378 restaurants. The menu of Quick, based in La Plaine Saint-Denis, France, has included burgers topped with foie gras for 2.90 euros. Closely-held U.S. sandwich chain Subway also has over 400 outlets.
Faced with such a crowded market, Burger King will need a lot more fans like Bonnaire, who eats fast food once a week and doesn't go to "McDo" much since Burger King's return.
Despite the lengthy wait for a Whopper, "it's worth it," he said. "I use any chance I can get to go to Burger King."
Before it's here, it's on the Bloomberg Terminal.
LEARN MORE