business
BlackBerry and Best Buy: Two Super Bowl Ad Fumbles
Alexander Chernev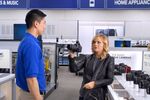 BlackBerry and Best Buy have many things in common: a struggling business model, a declining customer base, and a recently slumping stock price. Now they share something else—both aired Super Bowl 2013 ads that are likely to do very little to entice former customers.
Best Buy's ad features Amy Poehler as an annoying shopper harassing a Best Buy employee with a barrage of product-related and personal questions. The ad concludes with a tag line: "Thousands of Experts Ready to Help." BlackBerry's ad, on the other hand, shows a customer who erupts in flames, grows elephant legs, and, following several other equally strange metamorphoses, finally turns an out-of-control tanker truck into a pile of rubber ducks. The ad's tag line: "In 30 seconds, it's quicker to show you what it can't do."
Despite the differences in the featured product, the creative solution, and the overall takeaway—Best Buy's ad is reasonably funny thanks to Poehler, whereas the BlackBerry ad is unreasonably weird—these two ads share the same problem: a very confused marketing strategy. Of course, one can blame the Super Bowl advertising culture with its emphasis on creativity even when it comes at the expense of marketing logic and common business sense.
One of BlackBerry's key problems is its declining customer base caused by the obsolescence of its products. The Z10, which was unveiled last week, was the radically new product BlackBerry developed to keep its existing customers from leaving in droves while trying to lure back former users. BlackBerry's ad needed to excite the audience about its new smartphone and show them what it can do. Instead, BlackBerry took a different route by showing what it cannot do. Instead of trying to explain all of the Z10′s benefits, the ad might have focused on its primary benefit, reflecting the way BlackBerry intends to position its new smartphone in the minds of customers.
Compared with the BlackBerry commercial, Best Buy's ad seems much more focused. The tag line says it all: "Thousands of Experts Ready to Help." There are three issues, however. First, while the ad clearly indicated that some shoppers can be rather annoying, it was not very obvious that Best Buy employees answer their barrage of questions. Indeed, the focus of the ad was Poehler firing questions at a bemused, befuddled Best Buy salesman. Second, many employees' depth of technical knowledge might not necessarily be high enough to justify making technical advice the primary message Best Buy wants to send customers.
These two issues notwithstanding, an even more important concern is that this strategy does not help Best Buy address one of its key challenges—the idea of "showrooming," where customers ask Best Buy employees for advice and then buy a product elsewhere. Best Buy has become a showroom for Amazon.com and other online retailers: Peruse the product options, check prices on a smartphone, and then purchase from the lowest-priced retailer. Best Buy's Super Bowl ad is unlikely to change this pattern of behavior.
One might argue that Super Bowl ads cannot be judged by the same criteria as "regular" ads because of the broadcast's unique showcase for celebrity-infused, attention-grabbing, and entertainment-heavy commercials. Yet, Super Bowl or not, the ultimate goal of advertising is to help a company achieve its strategic goals. If it does not, it can amount to wasting money at the rate of $4 million for a 30-second spot.
Before it's here, it's on the Bloomberg Terminal.
LEARN MORE