OUR Walmart Agrees to Stop Picketing for 60 Days
by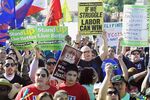 OUR Walmart, the union-backed employee group that organized protests at Wal-Mart stores across the country on Black Friday, and Walmart itself seem to agree on something. Both are happy with a settlement of the retailer's claims before the National Labor Review Board.
Walmart had alleged that the United Food and Commercial Workers Union, which helped start and continues to support OUR Walmart (whose rise I wrote about), violated the National Labor Relations Act by picketing at its stores for more than 30 days with the intent of seeking recognition for the union, without filing a petition for an election. The union contended it was not trying to gain formal recognition, but only helping employees voice their complaints to Walmart, which is the country's biggest private employer. OUR Walmart has been calling for higher wages, more full-time jobs, and better treatment of employees in the workplace.
On Jan. 31, the NLRB stated that Walmart's charge will be held in abeyance and dismissed in six months as long as the union and OUR Walmart stick to their promise not to picket for the next 60 days, and to make clear on their websites that their goal is not to unionize Walmart employees.
"This is good news for our associates, who have asked us to stand up to this conduct because they understand better than anyone the opportunities Walmart offers," David Tovar, a Walmart spokesman, said in a statement on the company's website. "Our associates can now move forward knowing that the UFCW must stop its illegal and disruptive activities."
On OUR Walmart's website, the group put up a statement that's just as optimistic. "Walmart did not win their argument and the NLRB is not moving forward on the charge. … The resolution does not affect or limit OUR Walmart members' and supporters' ability to otherwise protest, demonstrate against or strike because of Walmart's unfair practices and poor record on labor rights and standards."
Read into those statements what you will.
Before it's here, it's on the Bloomberg Terminal.
LEARN MORE