Mattel's Branded Doll Cafes: Barbie and American Girl
by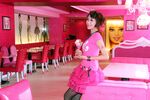 Which is creepier, having lunch surrounded by wide-eyed American Girl dolls or smiling Barbies? Mattel, which owns both brands, is giving diners a chance to find out. On Jan. 30, Barbie Cafe opened in Taipei, and it's just about everything you'd expect: a vision in pink, chairs that look like corsets, chandeliers made of teapots.
The restaurant group behind the new eatery, Sinlaku Taiwan, licensed the Barbie name from Mattel and invested $1.7 million in the project. It is planning a second Barbie Cafe in Taichung, Taiwan. This is not the first Mattel brand to cross over to the food industry: In 1999, American Girl opened its first cafe in Chicago, for little girls who find teatime with their dolls at home to be monotonous. The chain has similar eateries in 11 other U.S. cities. Here's how the two doll-themed restaurants stack up:
Doll Madness
Barbie Cafe: Guests can step into a giant box to experience life as a mammoth Barbie.
American Girl Cafe: Diners are encouraged to bring their own dolls, although the cafes "always have extra dolls available to dine with you." Dolls get their own seats and tableware.

Food
Barbie Cafe: Menus list calorie counts, even for the desserts, which are decorated with the Barbie logo. One seafood dish apparently is designed to look like a jewelry box.

American Girl Cafe: Only foods dolls love to eat, like fresh fruits and quiche.
Wait Staff
Barbie Cafe: Waitresses wear tiaras and pink tutus. Male waiters are attired in pink shirts.
American Girl Cafe: Treat dolls like guests (the human kind).


Cost
Barbie Cafe: A typical meal costs about $10.
American Girl Cafe: Set price of $20 per person and up at the New York cafe, depending on whether it's brunch, lunch, afternoon tea, or dinner.

Before it's here, it's on the Bloomberg Terminal.
LEARN MORE