January's Strong Jobs Report Trumps a Decline in GDP
by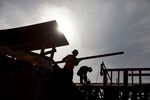 Maybe the Labor Department and the Commerce Department should sit down for a little conversation. Just two days after Commerce said that the U.S. economy shrank slightly in the last quarter of 2012, Labor announced Friday that the very same economy produced jobs at a rapid clip in November and December—and the momentum carried over into January.
The Bureau of Labor Statistics, a unit of the Labor Department, said the January increase in nonfarm payrolls was 157,000, close to the 165,000 median estimate of economists surveyed by Bloomberg. The unemployment rate, which is based on another survey, rose a tick to 7.9 percent, from 7.8 percent.
But the big surprise was the upward revision in job growth at the end of 2012. The economy added 247,000 jobs in November and 196,000 in December, the BLS said. That's a total of 127,000 more for the two months than previously estimated.
On Jan. 30, the Commerce Department's Bureau of Economic Analysis said the economy shrank at an annual rate of 0.1 percent in the fourth quarter, with big declines in military spending and inventory accumulation as well as a drop in exports.
So is the economy growing at a good clip, or shrinking? The answer may lie somewhere in between. It's possible for the U.S. to add jobs even if there's not much economic growth, although the opposite is more common (a growing economy and a weak job market). The BEA's estimate of GDP growth is an early take based on incomplete data, and there's a good chance it will be revised into positive territory.
Bottom line: Friday's report is truly good news, indicating that this week's report of a decline in GDP was probably a false alarm.
Before it's here, it's on the Bloomberg Terminal.
LEARN MORE