High Drama at CFTC: The Battle Over Swaps and Futures
by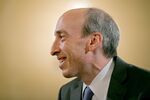 Hearings at the U.S. Commodity Futures Trading Commission aren't exactly known for their riveting entertainment value. Nor for their mass-market appeal. Yet on Thursday, it was standing-room-only at the CFTC headquarters in Washington as the commission held a roundtable discussion about the recent migration of swaps trading into the futures market.
First, some background: Under Dodd-Frank, the CFTC was given the task of regulating the $300 trillion market for swaps in the U.S. The basic point was to bring light to a dark market and prevent another AIG by pushing as much of the over-the-counter swaps market as possible onto exchanges where prices and volume are posted. With about 80 percent of those swaps rules written, according to CFTC Chairman Gary Gensler, and a bunch of them now in effect, traders have begun "futurizing their swaps"—that is, trading futures contracts instead of entering into swaps deals. Some say that's a clever way around Dodd-Frank. Others see it as merely a natural evolution of financial instruments.
Whatever the reason, it's happening. And as arcane as the details may be, the potential consequences are enormous, as evidenced by Thursday's packed house. The general consensus of those present was that Thursday was the most crowded CFTC hearing in recent memory. Lawyers and lobbyists lined the walls; congressional staffers and industry suits packed the chairs. More than 150 people crammed into the CFTC's main conference room, and a healthy number of folks watched on TVs in the hallway outside.
Dodd-Frank has upended the derivatives market, and in the shakeout that follows, there will be winners and losers. Perhaps those with the most at stake are IntercontinentalExchange and the Chicago Mercantile Exchange, the two biggest futures exchanges in the U.S. As more companies and traders start favoring futures over swaps, the two exchanges stand to capture a much bigger portion of that activity. The potential losers? Dealers such as Goldman Sachs that have done a lot of swaps business. Standing at the back of the room, Chris Giancarlo, chair of the Wholesale Markets Brokers' Association, likened the fight over swaps and futures to "the Maginot Line for the exchanges."
During some seven hours of testimony, the CFTC heard from all kinds of market participants: the exchanges, of course, but also representatives of trading and asset management firms: J.P. Morgan, BlackRock, Deutsche Bank, Vanguard, State Street. Donald Wilson, chief executive and founder of high-frequency trading giant DRW, testified on three of the four panels on behalf of the Futures Industry Association Principal Traders Group.
A key theme that kept arising was that swaps provide end-users—such as airlines seeking to lock in jet fuel prices—with a degree of customization and flexibility they can't get with a futures contract.
Thomas Deas Jr., vice president and treasurer of FMC Corp., a Philadelphia-based chemical company that uses over-the-counter swaps to hedge the price of natural gas, said that dealing in futures is simply too complicated. To hedge his full position requires just 100 transactions using OTC swaps, he said, while doing so with futures would take 144,000 transactions. Deas said FMC doesn't have the trading expertise to handle such a complicated trade.
After opening remarks by Gensler, CFTC Commissioner Bart Chilton chimed in via speakerphone, saying that while he thinks the most standardized swaps contracts (such as energy) probably should've been futures from the get-go, he is worried about a broader migration. "I am more concerned about a silent creeper," said Chilton. "That is, the 'swapification' of the futures markets." Chilton said he's worried that by converting some types of swaps into futures, the lack of regulation that plagued swaps will somehow be transferred into the futures market. "We need to be cautious about converting certain swaps to futures in an attempt to export the deregulated, opaque swaps trading model to these new futures markets," he said.
Before it's here, it's on the Bloomberg Terminal.
LEARN MORE