Game On: Super Bowl Ads Are Already Playing Online
By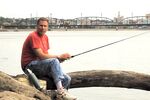 The battle over the coveted 47 minutes and 10 seconds of Super Bowl TV ad time is as heated as ever—this year, 30-second spots sold for as much $4 million—but the game's advertising war is no longer confined to television, and many companies aren't waiting for the kickoff. Most advertisers now send out previews of their commercials online to generate buzz. (YouTube reported that ads released before the game last year averaged 9.1 million total views; those making debuts during the broadcast got only 1.3 million views.) Meanwhile, some advertisers have opted to bypass the game altogether, trying to get Super Bowl-sized returns without forking out Super Bowl-sized bucks.
One creative way of getting an ad out on the cheap: Run a quirky, low-budget spot in a small market and watch it go viral. (Old Milwaukee beer pioneered this trick last year with an ad, featuring comedian Will Farrell, that ran during a local ad block in North Platte, Neb.) According to Adweek, Old Spice will run a Super Bowl ad, in which wolves crash a party and hawks interrupt a poker game, exclusively in Juno, Alaska. (The spot is already online.) The deodorant company says it chose Alaska because the state has the highest wolf population in the country. Because of the rise of small market ads like these, CBS said local ad sales at network-owned stations have hit a new record this year, with some markets charging up to $1 million per ad.
Meanwhile, the adult site PornHub has brilliantly played off the peculiarities of decency standards, producing a boring, G-rated commercial that features an elderly couple but was rejected because of the company's business. Pornhub gleefully quoted a "CBS spokesman" who said its standards didn't permit "advertising related to pornography." (The network has previously rejected racy ads from sites such as Ashley Madison and GoDaddy.) The PornHub ad is thriving online and CBS is getting criticized for running an equally boring Mercedes ad in which Kate Upton suggestively washes a car.
Even companies that are affiliated with the Super Bowl are looking for more creative ways to capitalize on TV's most expensive advertising space. Witness the social-media campaigns that invite consumers to create ads (Doritos), name a horse (Budweiser), get their fan picture on the ad (Pepsi) or choose how a commercial ends (Audi and Coke). Nike, meanwhile, is hawking the fact that the San Francisco 49ers and the Baltimore Ravens will both take to the field in the NFL Nike Elite 51 uniform—"the most innovative uniform system" the company has ever produced.
Then again, the only way to leave a lasting impression on consumers is to create an artful, memorable commercial. Few ad agencies have mastered the art of the Super Bowl ad as BBDO has done.The agency has put out spots in which cowboys herd cats, Betty White gets tackled, and an M&M strips off its shell to dance naked.
David Lubars, chairman and chief creative officer of BBDO North America, advises keeping an ad simple and honest. "It should also be an easy, reductionist message," says Lubars. "You're getting a canvas that 120 million people will see. You have to go where nobody has gone before. The ad has to be single-minded, relevant, funny, and emotional. If it's done right, $4 million is a bargain. I would say 90 percent of the people running ads are wasting their money."
Before it's here, it's on the Bloomberg Terminal.
LEARN MORE