Did Pizza Hut Really Invent the Stuffed Crust Pizza?
by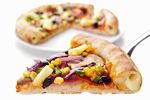 On Super Bowl Sunday, Americans will eat an estimated 15 million pizzas. Most will be satisfied by some combination of crust, cheese, and sauce; even so, inventors continue to search for enhancement. Can't improve on perfection? To the contrary, please see Exhibit A: the stuffed crust pizza, which has evolved from its beginnings of simple cheese filling to more involved ingredients today, including hot dog and cheeseburger.
When Pizza Hut introduced a pie with mozzarella cheese filling inside the crust in 1995, it touted the product as an industry "revolution." It was a bold assertion with which cheese maker Anthony Mongiello and his family immediately took issue. The Brooklyn native claimed to have created the stuffed crust a decade earlier when he was 18 years old and, with his relatives, held a 1987 patent to prove it.
Nearly 20 years later, he's still indignant. "I can tell you how I created it!" he says. "I had it patented, I had it trademarked, and I had it stolen from me." Mongiello came upon the idea while making pizza for his girlfriend at the time. He put two balls of dough together, pushing out all the extra dough to the edges, and baked it. "As I bit into the dough I looked at this big hole, and I realized if there was something inside it, it would be delicious." He experimented with all sorts of stuffing, from cheese to apple pie.
On March 26, 1995, Pizza Hut's Stuffed Crust debuted on the menus of 8,600 U.S. restaurants. Days later, the chain began a $45 million ad campaign promoting the new pies, timed with the NCAA men's basketball tournament's Final Four weekend. Spots featured Donald and Ivana Trump, as well as Ringo Starr with the Monkees.
It was an instant hit. "By the end of the year, Stuffed Crust had become one of Pizza Hut's biggest brands, and in the process helped increase Pizza Hut system sales by $300 million," states an annual report by PepsiCo, which owned the chain at the time.
The crust was now in play. By October, Little Caesars had launched its own stuffed crust pizza. And Domino's focused on pizzas with herb-flavored crust.
Later that year, Mongiello's family sued Pizza Hut for $1 billion, alleging they had patented the method for making stuffed crust pizza and had twice offered the chain licensing opportunities, which were turned down. The family lost the suit in 1999. The judge concluded, "[Mongiello's] method patent is not infringed simply because some examples of defendant's completed product approximate plaintiff's product."
Mongiello was disillusioned. "I truly do not believe in the patent system," he says. Pizza Hut did not respond to requests for interview.
Mongiello is not the only one to claim the invention. New Jersey pizza maker Anthony Sambogna says he started making stuffed crusts in the 1960s under the name Pizza Zune. Sambogna sought credit from the chain, not money, and received a letter from then-Chief Executive Officer Allan Huston stating: "Pizza Hut believes that you were the first person to make a pizza with a cheese-filled crust," reported The Record newspaper in 1996.
Mongiello, now 48, has moved on, though not too far. He owns a cheese manufacturing company, Formaggio Cheese, which sells to major retailers such as Costco Wholesale and Sam's Club. He says the company made $25 million last year. "Pizza Hut stole my American Dream. I achieved it in another way," he says.
As for Pizza Hut's Stuffed Crust, Mongiello admits, "I eat it all the time."
Before it's here, it's on the Bloomberg Terminal.
LEARN MORE