Can Pimco Break Free of Its Bonds?
by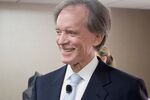 Shakespeare, meet Wall Street, where uneasy lies the head that wears a fund-manager crown. To wit: Peter Lynch and Fidelity Magellan's reign during the 1980s. Or Janus's growth-at-any-price ascent upon the ill-fated tech bubble, or Legg Mason's Bill Miller, whose 15-year streak of beating the Standard & Poor's 500-stock index and lapping up investor dollars lasted until Miller started lagging, lost billions of dollars in assets, and hung up his calculator.
The point is that no era's mutual fund of choice lasts forever. Could Pimco, parent of the nearly $300 billion Total Return Fund, a central beneficiary of a bond bull market and huge investor confusion, hold onto its crown when the 30-year bull market in fixed income finally ends? Or, if investors pile back into equities at the expense of bonds, as they did during the Roaring '90s? (That's a prospect for which Pimco's Bill Gross is hardly nostalgic.)
Pimco's fortunes are decidedly and lopsidedly tethered to fixed income, which represents more than 99 percent of its gross domestic product-like $2 trillion in assets. Its $10 billion equity business, by comparison, is still looking to make a name for itself.
That chasm stood out this week as the Southern California fund manager lost its global head of equities, Neel Kashkari, who previously headed up the Treasury's Troubled Asset Relief Program during the financial crisis. Kashkari wrote to colleagues and the press: "After three terrific years … I have decided to leave in order explore returning to public service. Leaving is not an easy decision because our equity business is off to a great start and we've assembled a wonderful team. Nonetheless, my passion lies in public service. We've built a deep bench of remarkable talent so I know our clients and my Pimco colleagues will continue to thrive." Pimco named Marc Seidner, formerly a fixed-income portfolio manager at Harvard's endowment fund, as its interim equities chief. (The telegenic Kashkari, 39, is apparently considering a life as a California politician, either in Sacramento, or on Capitol Hill.)
Under Kashkari, Pimco's equity unit hatched six funds, largely sold on the promise of low volatility and lower downside risk. According to Bloomberg data, three of its four primary stock funds trailed a majority of competitors last year. All six offerings underperformed their Morningstar benchmarks.
Morningstar analyst Karin Anderson notes that these funds tend to lag in an exuberant, risk-on market rally (like last year's) but stand out over volatile and falling markets—and in theory, over the long term. Pimco's equity strategy, she says, "revolves around looking for proven, defensive, lower-volatility managers with good records. It's still a relatively new effort. It's still way early for them."
Contrast that side of the ledger with Pimco's core, constantly growing Total Return Bond fund, which last year gained 10.4 percent and beat 95 percent of its peers—a remarkable feat for a $285 billion fund. Though it came after a bum 2011, Total Return has had a longer-term run of beating rivals.
Anderson says she is looking for Pimco's equity offerings to draw from the fund house's significant bond, currency, and macro-centric resources. "I think it will be a really difficult task right away," she says. "They need to post at least three years of outperformance to really catch investor attention."
Back in bonds, where yields are piddling and trades crowded, up and down the risk curve, Pimco is trying to amp returns with leverage, that bogeyman from the financial crisis. It plans to sell as much as $3.3 billion of shares for its new Dynamic Credit Income Fund, which, according to a Jan. 25 filing, may borrow as much as 42 percent of net assets.
Even so, in a report this month, Gross expressed concern over a performance bill that will come due from global banks' spending spree to prop up bonds and other securities. "While they are not likely to breathe fire in 2013," he wrote, "the inflationary dragons lurk in the 'out' years towards which long-term bond yields are measured."
So the world's bond king appreciates how bonds have gotten dreggy and riskier.
Upon hiring Kashkari in December 2009, Gross remarked: "Extending Pimco's investment activities into active equities and thus across the capital structure is a logical and natural extension of the firm's successful investment process."
What was formerly a side project now takes on more strategic urgency. It will be a fascinating transition to watch, especially as so much investor ardor for stocks in this bull market has been channeled into cut-rate, un-managed index funds. That's not been the case in bond funds, where active, tactical, expense-rich management at places such as Pimco—and up the freeway, Doubleline—has been necessary to produce attractive returns, what with the yields on Treasuries that dominate U.S. bond indexes so low. Will one expertise port into the other?
Ever the competitors, Pimco bosses Bill Gross and Mohamed El-Erian set their alarm clocks to sound around 3 a.m. You wonder if these thoughts will wake them even earlier.
Before it's here, it's on the Bloomberg Terminal.
LEARN MORE