A Super Bowl XLVII Bettor's Guide
From spreads to money lines, to now-and-then prop bets
by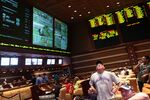 So you're thinking of wagering on America's favorite sports gambling event. We break down the basics in a handy FAQ format.
Is the Super Bowl really the biggest betting event in U.S. sports?
Probably. No one knows for sure since the huge majority of the money changes hands under the table. Last year, Nevada's 184 sports books wrote $93.9 million worth of bets. The NCAA men's basketball tournament, aka March Madness, recently surpassed the Super Bowl's handle (the total amount wagered) in the state with roughly $100 million in bets, but that's over 67 games. According to the American Gaming Association, a gambling lobby in Washington, the Super Bowl is still the biggest for illegal wagers. The AMA says the Nevada handle accounts for only 1.5 percent of the Super Bowl total, which would make for more than $6 billion nationwide. March Madness, the lobby says, citing the FBI, is a $2.5 billion betting event. But Pregame.com founder R.J. Bell estimated in USA Today that March Madness topped the Super Bowl last year, $12 billion to $10 billion. Again, nobody really knows.
How is this year's game shaping up?
It's early yet. Most of the bets, at least in Las Vegas, happen on game day. Johnny Avello, director of race and sports operations at the Wynn Las Vegas, is bullish. "It looks like the money that's come in so far, which is probably only 10 percent of the money that we are going to take in at Wynn, is pretty significant over last year or the year before," he says. Avello expects the state total to approach the record $94.5 million bet in 2006, when the Pittsburgh Steelers beat the Seattle Seahawks. This year's game lacks a glamour doll like Tom Brady or a market as big as New York's, but Avello says NFL bettors have had a good season and he sees them coming back to the table with their winnings.
I like the San Francisco 49ers. Their quarterback, Colin Kaepernick, has nice biceps. Can I bet it all on them?
Yes, but it will cost you extra. The 49ers are the favorites. To bet on them to win at Wynn, known as a money-line bet, you have to put down $175 to win $100. As underdogs, the Baltimore Ravens promise a better payday. A $100 money-line bet pays $155. Or you can bet the spread. At Wynn, the 49ers are four-point favorites. If you "give the points" and bet on the 49ers, they have to win by five or more for you to get paid. (If the margin is exactly four, it's a "push" and you get your money back.) A Ravens bettor "taking the points" can lose the game by three and still win. Or, if you're a neutral, you can bet the over-under, which is a guess at the total number of points scored by both teams. At Wynn the over-under is 47.5. You pick over or under that number, and the payout works like a spread bet.
That sounds boring. What else can I bet on?
Bookmakers also write hundreds of so-called proposition, or prop, bets. These range from the number of points each team will score in a quarter to the color of Gatorade the winning team will pour on the coach's head. (The current favorite is yellow.) At Wynn, Avello is offering bets on whether Kaepernick will run for more yards than former 49ers quarterback Steve Young did in Super Bowl XXIX, which was 49. "It's called a now-and-then prop," he says. He's also offering an over-under bet based on the jersey numbers of players who score. That's right: You can wager whether the combined total of the jersey numbers of players who score on Sunday, divided by the total number of scorers, will be more or less than 36.5.
Why would anyone do that?
Prop bets are sometimes just for fun, and to give journalists something to write about, but experienced gamblers also love them because it's difficult for the bookmakers to set odds with more variables to consider and less history to guide them. Plus, with fewer bettors taking sides, the bookies don't get as many signals from the market about where they may have erred. A bettor who knows the game well can find advantages. Avello estimates that only 20 percent of Super Bowl bets at the Wynn will be props. Those will come mostly from habitual gamblers. "We put up probably 150 to 200 proposition bets," he says. "Sophisticated players pretty much go through the whole sheet of props and bet the ones they want."
But the house always wins, right?
Pretty much. The bookmaker's goal is to collect an equal amount of money on both sides of a bet and then collect the vigorish, or vig, which is the cut they take before paying out. On a spread or over-under bet on the Super Bowl at Wynn, for instance, the vig is 10¢. The bettor has to put up $1.10 for every dollar he (and it is usually a he) stands to win. On money-line and prop bets at the Wynn, the vig works out to 20¢. (Try dropping that line at your Super Bowl party.) Last year, according to the state's Gaming Control Board, Nevada bookmakers took home $5.06 million from the $93.9 million in Super Bowl wagers. That's a 5.4 percent cut. A slight majority of bettors backed the underdog New York Giants, who won, which didn't help the bookies.
I'm not going to be in Vegas, but I want to bet anyway. Can I do it online?
Not legally. Sites such as Bovada are offering hundreds of bets, including that Gatorade prop, but it's illegal to wager from U.S. soil. "Sports wagering online in the U.S. is unequivocally illegal under the Wire Act," says Jennifer Webb, an Americas expert at the regulatory tracker GamblingCompliance.
But are the Feds really going to come after me?
Probably not. Some states, such as Maryland and Washington, have laws that include penalties for the bettors, but law enforcement usually goes after bookmakers. The peril here is that you won't get paid back when they do. "The legal risk to the player is low but not nonexistent," says Webb. "But the risk of losing your money is fairly high based on past situations."
Before it's here, it's on the Bloomberg Terminal.
LEARN MORE