Yes, Inflation Is Low. So Is Workers' Pay
by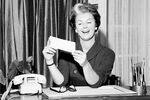 Feel like your paycheck hasn't been growing much? Join the club. A day ahead of the all-important monthly jobs report, the government announced Thursday that its Employment Cost Index rose just half a percent in the last three months of 2012. For the year as a whole it rose just 1.9 percent.
That continued a long trend of slow growth in pay. The annual growth rate hasn't been above 2.5 percent since 2008.
The Employment Cost Index is a good, broad measure to look at because it includes both wages and salaries (which have a 70 percent weight) and benefits (30 percent weight). It covers all civilian workers. It so happens that the annual increase was identical for private-sector and government workers.
There are three main reasons for the slow pay growth. One is that consumer price inflation is low, so workers can get by without big pay increases. Consumer prices rose 1.7 percent last year, just a bit less than compensation. (It works both ways, of course: Slow pay growth allows employers to keep a lid on their prices.)
A second reason is that unemployment remains high. Workers know that they lack leverage in pay negotiations because they can be easily replaced. The December U.S. unemployment rate was 7.8 percent.
A third reason is that benefits growth has been relatively modest. Benefits grew 2.5 percent over the past year, the lowest since the tabulation began in 2001, except for the recession year of 2009.
Health insurance is a big part of employee benefits, and spending on health care has been rising at a slower rate in recent years. Nationwide, health-care spending rose 3.7 percent last year, before stripping out the effects of inflation, according to data in the government's Jan. 30 report on gross domestic product. That compares with average annual growth of about 6 percent before the 2007-09 recession, says Dean Baker, co-director of the Center for Economic & Policy Research.
Before it's here, it's on the Bloomberg Terminal.
LEARN MORE