With Guns Banned on Big Marketplaces, a New Site Steps Up
By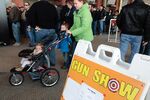 Type the word "guns" into Google Shopping and hundreds of so-called airsoft guns pop up. These replica firearms only resemble the real thing: Hobbyists typically use them in mock battles to shoot soft plastic pellets at each other. For people in the market for a real gun, Google Shopping doesn't work.
That's because the search giant "doesn't allow the promotion of weapons or devices designed to cause serious harm or injury" in its paid listings, as its weapons policy explains. Other big online marketplaces, including Amazon, Craigslist, and EBay impose similar prohibitions.
Until fairly recently, Google did not, which meant shoppers could compare weapons prices with Google Product Search. This fall, Google finished replacing Product Search with Google Shopping, which limits products to merchants who pay for placement and must adhere to its policies. The ban incensed weapons sellers, who complained that Google was interfering with their Second Amendment rights and who circulated a petition on Change.org, urging the company to restore their wares. "We are adults and do not need you to babysit us," the petition reads.
Cory Brown, a sporting goods retailer in Rockville, Md., estimates that Google had helped drive 80 percent of his roughly $5 million in annual sales of ammunition, shooting accessories, and gear at one of his sites. (Because Brown owns multiple ventures, he said he was able to offset some of the losses.) Rather than just complain to Google, he launched a new site, FreeGunShow.com, in December. Part free classifieds, part "unrestricted marketplace," the site doesn't sell guns but matches buyers and sellers.
"I was like, 'Look, I'm tired of these companies, whatever [their] motivations, prohibiting the sale of things that are legal," Brown says. "When Google pulled the plug on this kind of stuff, I knew something bad was happening."
Gun shows and online matchmaking for gun buyers and sellers has angered gun-control advocates because of a longtime loophole in federal law: Sales by unlicensed "private collectors" are exempt from background checks. FreeGunShow and more established online counterparts such as Armslist and GunBroker.com put the onus for federal and state compliance on the seller. "Technically a private seller-to-buyer transaction could take place and it would be legal under current laws in some states," Brown wrote in an e-mail. "However, most sellers we talk to regardless [of type] will ship a gun (if the buyer is out of state) to a [federally licensed firearms] dealer."

Two days before the Dec. 14 Newtown, Conn., school massacre, Armslist was sued by relatives of a woman who was murdered in April 2011 in suburban Chicago by a man who shot her with a weapon advertised on the site. The lawsuit by Jitka Vesel's family seeks wrongful death damages from Armslist. The Oklahoma-based company didn't respond to a request for comment sent via its website, and a telephone number wasn't available.
Brown says the lawsuit lacks merit. "Private sellers follow their state laws. [Federally licensed firearms] dealers follow federal and state laws. Criminals don't follow any laws," he wrote in an e-mail. "This lawsuit will die. You cannot sue a third-party in this case. Been proven over and over in case law."
Brown says FreeGunShow, which charges sellers 1 percent of the sale amount, once the transaction is completed, has hosted roughly 3,000 auctions so far. The site has about 1,000 users, and more than 7,600 "likes" on Facebook. Brown says that growth would be even better if more guns would materialize. "A lot of our sellers own stores and inventory right now is real hard to get. Anytime we see an in-demand gun come up, it doesn't last long," he wrote in an e-mail. "Ammo also sells very fast in all sizes. We get contacted often by buyers asking where can they buy "X" … because everywhere they go it is sold out."
Before it's here, it's on the Bloomberg Terminal.
LEARN MORE