Smart Software Comes to the Farm
by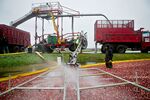 Investor and Netscape co-founder Marc Andreessen received a lot of attention a couple of years ago when he wrote that "software is eating the world." Part of his argument revolved around the idea that software—really good software—will begin to change all manner of industries in the years to come. It's a thesis that gets bolstered as startups like FarmLogs appear.
FarmLogs is what happens when a couple of kids, Jesse Vollmar and Brad Koch, grow up in rural Michigan and notice that local farmers have antiquated technology for managing their operations. Most farmers still keep track of their finances, supplies, and the like on paper or an Excel spreadsheet. Vollmar and Koch decided to build a modern application that just about any farmer could use and that would automate a lot of those manual calculations.
Their software is something that looks like a consumer Web application with a Middle American twist. There are tabs for entering information on equipment, seed costs, and field yields, as well as feeds of information on weather conditions and the prices that crops are fetching on various trading markets. Farmers can use these tools to calculate their break-even point. Other tools help them apply for crop insurance or loans.
In college, Vollmar began writing inventory management software for his family's grain business. He had intended to produce the software as a one-off, but local farmers caught wind of the project and began stopping by his family's farm to check on the progress of the code. "We were confused at first because they kept asking when it would be ready," he says. "They thought it would be for them, too. That's when this light bulb went off. We started looking around, and the software they were using was really terrible."
Soon, Koch joined his childhood friend and the pair applied to the Y Combinator startup program in Silicon Valley. They were accepted and over the past year built out their software and started FarmLogs. This week the company announced $1 million in seed funding.
Initially, FarmLogs will go after farmers that sell the major commodities—corn, soybeans, and wheat. There are about 450,000 farms with at least 100 acres of these crops in the U.S. At the moment, FarmLogs is charging for its software on a per acre, per month model and has a Web tool that shows how much a farmer can expect to pay. "We are still trying to learn what will be the best, fair price," Vollmar says. "We want any size farm to be able to use our product."
Last year, I wrote about the Climate Corp., another startup with a farming twist. It offers farmers a new type of automated payout insurance that helps cover them beyond federal crop insurance programs. The FarmLogs founders think their software is a nice fit with the Climate Corp., since farmers have to document the yields of their fields over many years and keep track of when they put their crops in the ground and their costs to qualify for the federal insurance programs. "Most people are still doing that on spreadsheets and paper forms," Vollmar says. "We make it a breeze."
Before it's here, it's on the Bloomberg Terminal.
LEARN MORE