Mock This? Davos Facilitates Worthy Social Programs
Davos, with its density of VIPs, is a good launch pad for social projects
by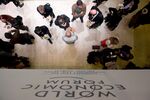 The Great Ruaha River of southern Tanzania runs dry for months each year because of deforestation and inefficient irrigation. Food supplies are at risk, as is the country's most important cash crop, coffee. But help is on the way. Under a partnership launched two years ago at the World Economic Forum in Davos, agribusinesses, including Norway's Yara International and Switzerland's Syngenta, are using their money and technical expertise to help Tanzanians reduce their water consumption while boosting crop yields. This year, Yara Chief Executive Jørgen Ole Haslestad turned up at the Alpine resort and exhorted his fellow businesspeople to do more, saying, "There is a huge need to step up the pace."
The Southern Agricultural Growth Corridor of Tanzania initiative is the type of thing that the World Economic Forum is most proud of—and least known for. The project got less attention this year than the stuffed elk with green lasers shooting out of its eyes that dazzled guests at a party hosted by former Facebook President Sean Parker. To the outside world, Davos is a snowy playground where the likes of Lloyd Blankfein, Derek Jeter, David Cameron, and a polyglot assortment of the world's billionaires exchange compliments. Some—gasp!—even have a tendency to bloviate. The British newspaper the Guardian mocked the forum this year with an online Davos HotPhrase Generator that spits out terms like "multi-interactive-agnostic" and "pre-disrupt-alization."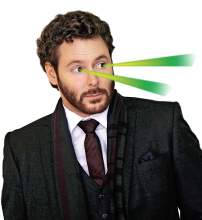 Although the World Economic Forum is ripe for ridicule, it performs a unique function. By bringing together leaders from government, business, finance, culture, philanthropy, and nongovernmental organizations, it tries to solve what economists call a coordination problem: organizing all the parties that are required to make something happen. "It is a very powerful convening capability," says Laura Tyson, a former chief economic adviser to President Bill Clinton who is a professor at the University of California at Berkeley Haas School of Business. Meetings at Davos "do lead to things getting done," she says.
Because it's a facilitator, not a doer, the forum rarely gets to claim sole credit for achievements. In 2000, the GAVI Alliance for childhood vaccinations was formally launched at Davos with support from Microsoft Chairman Bill Gates. Last year the forum collaborated with an arm of the World Bank, International Finance Corp., on ideas to jump-start private investment in water and low-carbon energy in developing countries. At Davos this year, the IFC said it had raised $280 million for energy efficiency and renewables, which includes donations from the governments of Canada and the U.K. and the sovereign wealth fund of Azerbaijan.
The forum has become a year-round organization, with spinoff events this year in Peru, South Africa, and Jordan. It has spawned local organizations of "global shapers," "young global leaders," and dozens of issue-focused global agenda councils composed of senior "thought leaders."
"This is kind of the mother ship" for networked institutions, says Don Tapscott, a Davos regular who writes books about the Internet. "Initiatives get catalyzed here." Ernesto Zedillo says that when he was president of Mexico from 1994 to 2000, visiting Davos was "a very cost-effective way" to communicate with key interest groups. (Impromptu chats with people like Zedillo are one of the perks of going to Davos.) "If this were just a place to shake hands and slap backs, people wouldn't keep coming," says Peter Corbett, chief executive officer of Washington-based digital agency iStrategy Labs.
The hardest-to-dodge rap on the World Economic Forum (whose motto is "Committed to improving the state of the world") is that its achievements are small in comparison to the time and money that go into the organization. "The return on investment is high for attendees but not for the world," says Vineet Nayar, vice-chairman of HCL Technologies, the Indian info-tech outsourcer, who attended Davos this year.
As for the broader public, its cynicism about gatherings of the self-identified best and brightest has only intensified since the financial crisis: A document prepared by a WEF council for this year's meeting is titled "The Vulnerability of Elites." For Davos founder Klaus Schwab and those who believe in him, the challenge is to prove that the VIPs who gather here each January really are making the world a better place.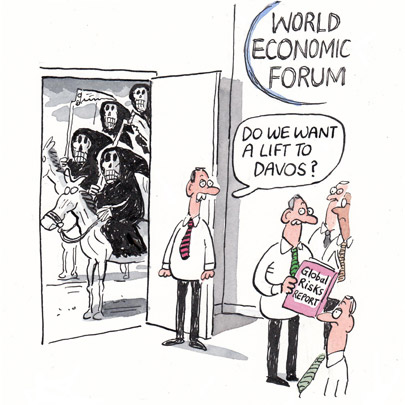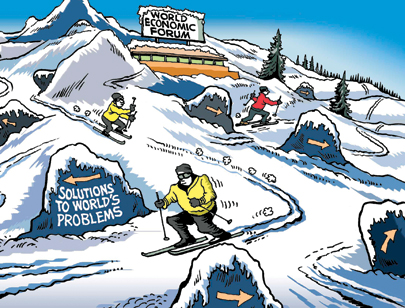 Before it's here, it's on the Bloomberg Terminal.
LEARN MORE