HMV Employee Commandeers Corporate Twitter Account in Response to Layoffs
Jared Keller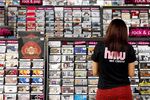 HMV administrator Deloitte announced 190 job cuts today as part of the firm's effort to reduce costs and eliminate redundancies for the beleaguered entertainment retailer. Naturally, some HMV employees were less than pleased.
Former HMV community manager Poppy Rose took to the retailer's corporate Twitter account this morning to protest the firing of 60 workers at various stores, calling the layoffs a "mass execution" of "loyal employees who love the brand." The company has since regained control of its account and deleted the offending tweets, but not before Alex Thomson, a correspondent and presenter for Britain's Channel 4 News, captured some of the disgruntled comments.

The lesson for any business is clear: If you're facing an uncomfortable collision with loyal employees, lock down your social media accounts. The anonymous worker indicated in another series of tweets, captured by GamingUnion.net editor-in-chief Darryl Kaye, that HMV's feeds were set up by an intern years ago and likely not secured.

Maintaining Facebook and Twitter pages should be taken seriously as a part of corporate communications, not relegated to the realm of entry-level busywork, and these kinds of incidents can only further embarrass a company already subject to investor scrutiny.
Rose took to her personal Twitter account to explain what happened.
I would apologise for the #hmvXFactorFiring tweets but I felt like someone had to speak. As someone without a family to support/no mortgage, I felt that I was the safest person to do so. Not to mention, I wanted to show the power of Social Media to those who refused to be educated.

Just to set something straight, I did not 'hijack' the hmv twitter account. I actually assumed sole responsibility of Twitter & Facebook over two years ago, as an intern. When asked (this afternoon), I gladly provided the password to head office. I also set another member of staff up as a manager on Facebook, and removed myself from the admin list. I didn't resist any requests to cooperate.

Since my internship started, I worked tirelessly to educate the business of the importance of Social Media – not as a short-term commercial tool, but as a tool to build and strengthen the customer relationship, and to gain invaluable real-time feedback from the consumers that have kept us going for over 91 years. While many colleagues understood and supported this, it was the more senior members of staff who never seemed to grasp its importance. I hoped that today's actions would finally show them the true power and importance of Social Media, and I hope they're finally listening.
Some may commend Poppy's willingness to take a stand on behalf of her fellow employees, but a future boss may not be too keen on a potential hire who flamed his or her former employer on Twitter, regardless of the circumstances or the legality of social media trash-talking. Leaving your job in a blaze of glorious retribution is every worker's fantasy, but unless you're looking to become self-employed (or remain unemployed), don't do what everyone thinks you're going to do and flip out.
Before it's here, it's on the Bloomberg Terminal.
LEARN MORE