Beckham Takes Paris, Thanks to Qatar's Deep Pockets
By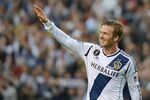 Paris Saint Germain, the French soccer club whose Qatari owners have splashed more than $300 million on top talent since 2011, has a glittering new acquisition: David Beckham.
The 37-year-old British midfielder, who recently finished a six-year stint with the Los Angeles Galaxy, confirmed at a Paris press conference Thursday that he'll play the rest of this season for the French team. PSG, as it's known locally, is currently tied for first place in the French Ligue 1 and has earned a place in the Champions League knockout stage.
The deal seems to revolve as much around Beckham's brand name as his prospects on the field. His contract will run only through June, and Beckham told reporters that he didn't expect to play in every game, or even to be in the starting lineup. "I will have to work for that," he said. He made clear, however, that he expected to stay on at PSG, perhaps in a managerial or coaching role. "I don't see this as a short-term project," he said. "I might have only signed a contract until the end of the season, but I see myself as a part of this club in the future."
Beckham and PSG's president, Nasser Al-Khelaifi, said Beckham's salary will be donated to an unnamed children's charity in France. The sum wasn't disclosed, but Beckham described it as "huge." And there's no doubt he commands serious money: His initial five-year contract with the Galaxy was worth $32.5 million.
The deal is likely to heighten resentment among rival clubs over PSG's lavish spending since Qatar's sovereign wealth fund in 2011 began a buyout of the club (it was completed last year). Before signing Beckham, PSG had spent $338 million on such top names as Sweden's Zlatan Ibrahimovic and Argentina's Javier Pastore and Ezequiel Lavezzi.
Michel Platini, president of European soccer's governing body, the UEFA, met in Paris on Jan. 16 with French parliamentarians who are considering new curbs on clubs' spending. The UEFA in 2011 introduced a so-called breakeven rule that seeks to punish teams whose expenditures greatly outstrip their revenues. A UEFA spokeswoman says that discussions with the French are continuing.
Teams in France are licensed by an independent government agency that has not adopted the breakeven rule. The agency publishes annual financial reports on French teams, but there is a considerable lag time, and the most recent report on PSG predates the Qatari buyout.
PSG's owners have said they have no plans to rein in spending. "We will keep on investing," club president Al-Khelaifi told French sports newspaper l'Équipe in early January. "It's necessary to become one of the great European clubs. Other clubs have invested for 20 years. We have been there for a year and a half, and now we must stop pouring money? It would be unfair."
Even if forced to keep its spending in line with revenue, PSG could probably gin up all the revenue it wants. According to reports in French news media, the Qatar Tourism Authority has signed a contract that will pay PSG up to €200 million annually for the club's help in promoting Qatar abroad. Among Qatar's key goals: to promote its hosting of the World Cup in 2022.
Having a marquee name such as Beckham's on the roster certainly won't hurt. After getting off to a rough start with the Galaxy in 2007, Beckham ended his career there on a high note last November, leading the team to its second consecutive MLS Cup title.
Beckham won praise for giving a big boost not only to his team but to MLS, the U.S. professional soccer league. "The growth the league has experienced since you've been here is very much thanks to your contributions," Jonah Freedman, managing editor of the soccer news website MLSsoccer.com wrote in an open letter to Beckham last year. "The expansion of clubs, the explosion of soccer-specific stadiums, the mammoth TV deals and extended sponsorship deals, the unprecedented global reach, the spiking attendances, and an influx of foreign talent, we can attribute directly to your leap of faith."