How to Handle an On-Campus Interview
Roxanne Hori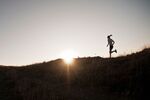 Sweaty palms, perspiration on the brow, dry mouth. Sounds like the flu. Maybe, but more likely they are reactions you may have while waiting for your first on-campus interview. The stress accompanying that first interview is palpable in the waiting area of B-school career centers around the country.
Recruiting started this week for Kellogg. As I watched the smartly dressed students sign in for their interviews and patiently wait for their names to be called, I thought of a few helpful pointers for those of you pursuing this path to a summer internship.
Get plenty of rest. Going to class tired is one thing. You can try to hide in the middle of the classroom and hope that you don't get called on. But it's difficult to hide in an interview. The more rested you are prior to your interview, the more likely you will be able to handle the questions being tossed your way. If you are interviewing for consulting or any other industry or company that uses case method interviews, which require you to analyze and solve a business problem, sufficient rest becomes that much more important. If you're going to problem solve, you want to be at your best.
Prepare, prepare, prepare. Plan ahead for your week. Look at the interviews you have scheduled. Be sure to do your research on each company, the issues they are facing, the role for which you are applying and why you are a good fit. Companies don't hire as many interns as they may for full-time positions. It is a competitive marketplace, so the candidate who is best prepared with knowledge about the industry and company, as well as a great pitch as to why he or she is a good fit, is most likely to get the job. Have you checked your LinkedIn network to see if anyone has worked at the companies with which you are interviewing? How about your classmates or second-years?
Exercise. I am a huge believer that a great way to release your stress is to exercise. I encourage students to go to the gym or take a run as often as possible during the peak recruiting season. Exercise allows you to clear your head, relax and do something good for yourself. You may even brainstorm some great ideas for how you want to position yourself in the interview or recall an experience, which will serve as a great example in your conversation.
Most importantly, be yourself. Remember, you were successful before business school, you are now attending a terrific program, and you will be successful in finding that summer internship and then your full-time position.
Before it's here, it's on the Bloomberg Terminal.
LEARN MORE