Cuomo Kicking Pension Can 25 Years Seen as Perilous: Muni
Freeman Klopott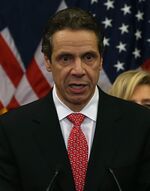 New York Governor Andrew Cuomo says his latest pension proposal would cut the budget gap of Syracuse by more than half.
Yet the mayor of the state's fifth-largest city, a fellow Democrat, doesn't want it. Nor do bond investors or Richard Ravitch, the former lieutenant governor who helped rescue New York City from its 1970s fiscal crisis. The measure would cut retirement costs for New York municipalities for five years, while locking in contribution rates for 25 years. The critics call it a form of borrowing that may leave localities overpaying and weaken New York's pensions, the nation's fourth best-funded.
Cuomo, 55, has engineered the first consecutive on-time budgets since 2006, bridging $12 billion of deficits. The steps have New York poised for its best Standard & Poor's rating in 40 years. Ravitch and investors such as Howard Cure at Evercore Wealth Management LLC say the plan may sap the fiscal strength that shrank the extra yield on New York debt to an 18-month low.
"This runs a high risk of the pension being underfunded," said Ravitch, 79, a Democrat who led a task force on state finances with former Federal Reserve Chairman Paul Volcker. "It's borrowing, and you're not supposed to borrow to meet an operating deficit."
Mayor's Stance
Syracuse Mayor Stephanie Miner, a 42-year-old seeking re-election this year, came out against Cuomo's measure after he proposed it last week as part of his $136.5 billion budget. It was a rare move for a Democrat in a state where the party is led by a governor with approval ratings around 70 percent.
The city of about 147,000 in the central part of the state is among New York local governments, not including New York City, whose pension costs collectively grew to $2.2 billion last year from $190 million in 2002, state budget documents show.
"Some would say it's a gamble; others would say it's a tradeoff," Miner said in a Jan. 25 telephone interview. "When you start looking at what the intangibles are, I would suggest one to be cautious about kicking the can on pension payments."
Cuomo's proposal would allow localities to hold the pension contribution rates they pay for most employees at 12 percent of wages for 25 years.
Cuomo Overhaul
Thomas DiNapoli, state comptroller and sole trustee of the $150.6 billion pension fund, would be able to raise those rates as much as two percentage points after five years and by no more than four percentage points above the original rate after 10 years. If financial markets were to decline, the comptroller also could extend the fixed rates beyond 25 years.
The plan is designed to allow governments to cash in now on savings they'll get from a pension overhaul Cuomo pushed through last year that raised the retirement age for new workers to 63 from 62, the governor said in a radio interview yesterday. As it stands, cost cuts associated with last year's pension changes won't be achieved until the next generation of public workers is hired.
"We've had all sorts of financial experts go through this, and they think it's a sound, prudent option," Cuomo said. "This is a financing plan to get you from today to tomorrow."
Cuomo needs lawmakers' approval. Assembly Speaker Sheldon Silver, a Manhattan Democrat, has said he'll wait to hear from DiNapoli before deciding.
DiNapoli 'Concerns'
DiNapoli is examining the proposal, Eric Sumberg, a spokesman, said in an e-mailed statement.
"We have concerns about the impact on the fund, but we have an open mind until we finish our review," Sumberg said.
David Hitchcock, the primary New York analyst for S&P, said he discussed the proposal with Cuomo's office yesterday, and he said budget officials are working with DiNapoli's actuaries to work out the details.
"If you're going to lock yourself into actuarial assumptions for a long period of time, you have to hope that they're correct," Hitchcock said in an interview. "Twenty-five years is a long time from now, and the current people will not be in office."
The comptroller already offers local governments the option of spreading a portion of annual pension payments over 10 years with interest. This year, the state and its local governments plan to borrow almost $1 billion through that program, the most since its creation in 2010.
Rochester Assist
Some local leaders accept Cuomo's proposal. At a Jan. 28 Albany hearing, Rochester Mayor Thomas Richards said it'll help provide services.
"The city has little ability to flex its spending, and this will help us better manage," Richards said. "However, as important as it is, it's not the permanent solution to all the issues our cities face."
Investors are skeptical about Cuomo's proposal. Cure, director of muni research in New York for Evercore, which oversees about $3.8 billion, said it's a one-shot remedy that will raise questions about issuers taking the option.
"This is a way of giving temporary budget relief for cities, which won't sit well with credit analysts," Cure said. "Anytime you're not fulfilling your pension obligation when due, you have to start scrutinizing the reasons."
In muni trading yesterday, tax-exempts fell along with Treasuries. Yields rose across muni maturities. The interest rate on benchmark tax-exempts due in 10 years climbed to 1.76 percent, the highest since Jan. 8, Bloomberg Valuation data show.
Before it's here, it's on the Bloomberg Terminal.
LEARN MORE