Where All That Harvard B-School Cash Comes From
by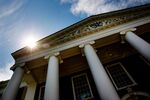 Fresh from Boston and not yet online, Harvard Business School's annual report has arrived, showing revenue increased for the second straight year. Fiscal-year revenue rose 7.3 percent to $546 million for the year ended June 30, driven mostly by sales in its publishing unit and tuition from executive education courses. Stanford and Wharton don't publish comparable information online.
Sales from Harvard Business Publishing, which puts out the glossy Harvard Business Review as well as case studies on such enterprises as Lady Gaga and the Manchester United soccer team, increased 8.6 percent to $165 million. Historically, publishing—not MBA tuition—is the school's biggest moneymaker.
"In fall 2011 we moved into execution mode on a range of new initiatives," writes HBS Dean Nitin Nohria in his opening letter. Nohria goes on to list the MBA program's first major curriculum change in more than a decade and the opening of a university-wide entrepreneurship lab as key achievements.
However, the morsel from HBS's report that may be most telling for business schools at large is tuition collected from its executive education program.
HBS's revenue growth in this area has outpaced that of all other categories over the past four years except for gifts, rising by one-third since 2009. Students in the program have ranged from CEOs to model-turned-media entrepreneur Tyra Banks. The courses accounted for $142 million of the school's revenue for the year, up 7.6 percent from $132 million in 2011. That growth prompted HBS's largest capital investment of the period: construction of Tata Hall, a $25 million, macaroni-shaped building funded in part by the philanthropic arm of the Tata Group. Nohria expects the building to be finished by yearend.
Other bright spots? The school received $109 million from its endowment, an increase of 9 percent, and unrestricted gifts rose 11.7 percent to $19 million. The revenue boost also translated to increased financial aid: The school says average fellowship support per student increased 12 percent to $29,843 in fiscal 2012, up from $26,745 a year earlier. That's the richest aid package among the Bloomberg Businessweek top 10 full-time MBA programs that supplied information.
Until this year's report is online, you can walk through last year's here.
Join the discussion on the Bloomberg Businessweek Business School Forum, visit us on Facebook, and follow @BWbschools on Twitter.
Before it's here, it's on the Bloomberg Terminal.
LEARN MORE